Deconstructed Lemon Meringue Tart
Automne 2018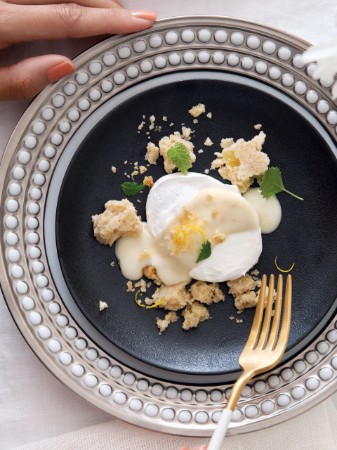 Deconstructed Lemon Meringue Tart
Automne 2018
BY: Lucy Waverman
This has the components of a lemon meringue pie but torn apart to make a visually stunning dessert. When we were developing this recipe, the meringues had been in the oven for 10 minutes when suddenly the power turned off. We left the meringues in the cooling oven for 1½ hours or until the oven cooled completely. Not only were they perfect, they were even better after being left in a cool place for a few days. This can be made with a hand-held mixer, but that makes the beating time longer.
MERINGUES
4 egg whites
½ tsp (2 mL) salt
1 cup (250 mL) sugar
1 tbsp (15 mL) white vinegar
1 tsp (5 mL) cornstarch
Lemon Cream (recipe follows)
Ginger Shortbread Cookies (recipe follows)
Mint (optional)
1. Preheat oven to 275°F (140°C).

2. In a stand mixer on medium-high, beat egg whites and salt until soft peaks form, about 1 minute. Gradually add in sugar, beating well the whole time. Keep beating until mixture is thick and glossy, about 2 to 3 minutes. Beat in vinegar and cornstarch until stiff peaks form, about 30 seconds more. Mixture should be thick enough that you can turn the bowl upside down.

3. Line a cookie sheet with parchment paper. Using an ice cream scoop or 2 large spoons, scoop ovals of meringue onto the baking sheet. You should have 11 or 12.

4. Bake in oven for 10 minutes. Turn oven off and leave for 1½ hours. Do not open oven. Meringues should be set and peel easily from parchment paper. Remove from oven and set aside in a cool place until needed.

5. To assemble, on a dessert plate, place 1 meringue, a dollop of Lemon Cream plus scattered broken Ginger Shortbread Cookies. Garnish with mint, if desired.
Makes 11 or 12 meringues, serves 8
LEMON CREAM

A simple cream that is softly set. I find it works best with an organic whipping cream or one that is pasteurized, not ultra-pasteurized. Spoon over or around the meringues and dust with some more grated lemon if desired. Or use the cream as a simple dessert, served chilled in small ramekins, topped with some raspberries.

1½ cups (375 mL) 35% whipping cream
⅓ cup (80 mL) unsalted butter
¾ cup (175 mL) granulated sugar
¼ cup (60 mL) lemon juice
1 tbsp (15 mL) grated lemon rind
1. Bring cream, butter and sugar to a boil in a saucepan, stirring constantly. Reduce heat to medium and simmer briskly, stirring occasionally, for 3 minutes.

2. Remove from heat and stir in lemon juice and grated lemon rind. Pour into a bowl or dish and chill until set, about 3 to 4 hours.
Makes about 2¼ cups (560 mL)
GINGER SHORTBREAD COOKIES

Keep all the trimmings of the dough to chill and re-roll later to make a few more cookies. There will be lots of cookies left over for munching on another day. You can make this as cookie rounds, but I liked the look of it better when baked in a sheet pan and broken up.

1½ cups (375 mL) all-purpose flour
¼ cup (60 mL) whole-wheat flour
¼ cup (60 mL) rice flour
⅓ cup (80 mL) light brown sugar
1 tsp (5 mL) salt
1 tsp (5 mL) ground ginger
¼ cup (60 mL) finely chopped crystallized ginger
1 cup (250 mL) softened butter
1. Preheat the oven to 300°F (150°C). Line an 8 x 8-inch (20 x 20-cm) square baking pan with parchment paper, set aside.

2. Place all flours, sugar, salt, ground ginger and crystallized ginger in the bowl of a food processor. Scatter over butter. Pulse mixture together until it just begins to form a ball. Place mixture in a bowl and knead gently until it comes together.

3. Place about three-quarters of mixture into the lined cake pan. Press into about ½-inch-thick (1-cm) base. Use the back of a measuring cup to pat evenly. If it is too thick, then remove some dough and pat out further. Pat out remaining dough and cut into 2-inch (5‑cm) rounds to make extra cookies.

4. Refrigerate until firm, about 30 minutes. Prick all over with a fork. Bake until pale gold but not browned, 20 to 25 minutes. Cool for 20 minutes then remove from pan to a wire rack. Cool completely.

5. Break into pieces to add to the dessert plate when ready to serve.
Makes one 8-inch (20-cm) shortbread square plus about 12 cookies
SHARE