Crown Royal Apple Sour
OCTOBRE 2020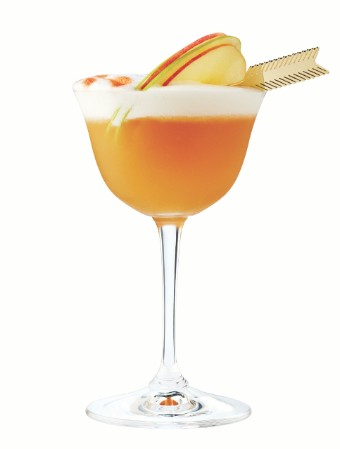 Crown Royal Apple Sour
OCTOBRE 2020
BY: Stan Reyes
This play on a classic Whisky Sour conjures an autumn day, walking through fallen leaves and picking crisp Gala apples.
2 oz Crown Royal Apple
1½ oz freshly squeezed lemon juice
1 oz aquafaba (see tip below) or 1 fresh egg white
¾ oz Gala Apple & Cinnamon Maple Syrup (see recipe below)
4 or 5 drops Angostura bitters, for garnish
Apple slices, for garnish
Pour Crown Royal Apple, lemon juice, aquafaba and syrup into a cocktail shaker. Shake vigorously to combine and emulsify. Separate top and bottom of cocktail shaker. Fill smaller half with ice. Seal and shake until chilled, about 30 seconds. Using a Hawthorne strainer and fine-mesh strainer, double strain into a coupe or rocks glass. Slowly and gently drop bitters over surface. Pull a thin skewer through the bitters to create a design.
Tip
Aquafaba is the liquid leftover from cooking chickpeas and other legumes. (The liquid in canned chickpeas can also be used.) Aquafaba is frequently used as a vegan alternative to egg white in cocktails.
Gala Apple & Cinnamon Maple Syrup
1 apple, preferably Gala
¾ cup (175 mL) maple syrup
3 to 4 cinnamon sticks
Cut apple in half and remove seeds. Dice into cubes. Add to a small pan with maple syrup and cinnamon. Heat over medium-low heat just until mixture begins to simmer. Reduce heat to low. Heat, stirring occasionally and ensuring syrup does not simmer too rapidly, until flavours infuse, 12 to 15 minutes. Remove from heat and let cool completely. Carefully fine-strain into a resealable heatproof container. Syrup will keep well, covered and refrigerated, for up to 2 weeks.
Tip
Remove the cinnamon from the strained simmered apple cubes and enjoy them on buttered toast, pancakes or ice cream.
Makes about ½ cup (125 mL)
SHARE