Cranberry Cabaret
Été 2007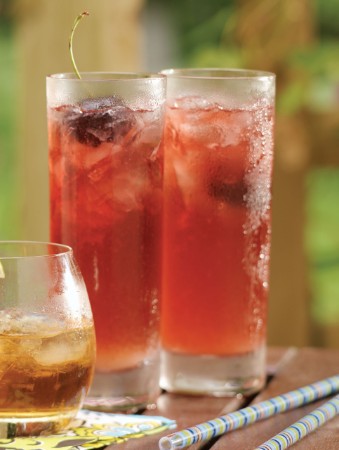 Cranberry Cabaret
Été 2007
BY: Michelle P. E. Hunt and Laura Panter
1. Fill a highball glass with ice.

2. Add 1 oz Orchard Infusion, ½ oz amaretto, the juice of 1/8 fresh lime and top with cranberry juice.

3. Garnish with a cherry.
Orchard Infusion
1. To an infusion jar or lidded jar, add one 750mL bottle of Canadian whisky, 2 cups apples, peeled, cored and chopped and 2 cups fresh cherries, cleaned, pitted and chopped.

2. Infuse for 3 to 10 days.

3. Open the jar and stir to mix before straining and discarding the fruit.


Cherry Sour
1. In a cocktail shaker filled with ice, add 1½ oz Orchard Infusion, ½ oz lime juice and ½ oz simple syrup ( recipe follows).

2. Shake sharply and strain into a rocks glass filled with ice.

3. Garnish with a lime wedge.


Simple Syrup
To make simple syrup, combine equal parts sugar and boiling water, stir until the sugar has dissolved, and store in the fridge until chilled


Apple of My Eye
1. Fill a tall glass with ice. Add 1½ oz Orchard Infusion and the juice of 1/8 fresh lemon.

2. Top with chilled apple cider and garnish with a crisp apple slice.
SHARE