Cocktail Tortitas
Automne 2014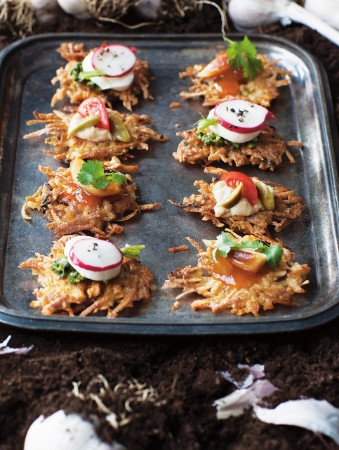 Cocktail Tortitas
Automne 2014
BY: Marilyn Bentz-Crowley
These savoury little pancakes are crispy and absolutely delicious right out of the pan. They are a cross between Italian suppli and Germanrösti. They are also the perfect vehicle for a wide variety of appetizing toppings or dips (see list following recipe). Do indulge in a new supply of paprika as the spice quickly loses its flavour with storage.
1 cup (250 mL) chicken broth or water
½ cup (125 mL) short-grain rice such as arborio
1 to 2 baking or all-purpose potatoes, total about 8 to 10 oz (250 to 300 g)
1 egg
1 large garlic clove, minced
½ tsp (2 mL) salt
½ tsp (2 mL) paprika
¼ tsp (1 mL) freshly ground black pepper
2 green onions, thinly sliced
½ cup (125 mL) peanut or other vegetable oil (approximate)
1 Do not wash rice. In a small saucepan bring broth to a boil; add rice. Cover and reduce heat to very low; cook for 20 minutes, stirring once. Then turn out rice onto a plate; cool to room temperature.

2 Fill a large bowl half-full of cold water. Peel, and then coarsely grate potato directly into water; set aside, still in water.

3 Lightly beat egg with a fork to combine. Stir in garlic, salt, paprika and pepper until well mixed. Then stir in green onion. When rice is cool, stir into rice.

4 Drain potatoes; place onto a clean tea towel and roll up to further dry. Stir dried potato into rice mixture.

5 Heat 2 tbsp (30 mL) of oil in a large fryingpan over medium heat until hot (for crisp results, do not skimp on oil). Drop several heaping tablespoonfuls of the rice mixture into the hot oil; shape slightly as needed to keep together. Sauté for 4 to 5 minutes a side or until richly golden. Drain on paper towels. Repeat, adding more oil as needed.

6 Keep warm in a 200°F (100°C) oven, if using right away. Serve hot, plain or with topping or dip of choice. (If making ahead, cover and refrigerate for up to 2 days or freeze. To reheat, place in a preheated 425°F (220°C) oven in a single layer on an ungreased baking sheet for 6 to 8 minutes or until hot.)

TOPPINGS & DIPS:

1 Half a whole roasted garlic clove on top of mango chutney with coriander leaf

2 Sliced bocconcini and radish on top of pesto

3 Hummus with bits of cherry tomato and green olives

4 Small cold shrimp perched on guacamole

5 A dab of horseradish-spiked sour cream or Greek yogurt with a twirl of sliced roast beef and a sliver of cornichon

6 Thick tomato salsa as a topper or dip

7 Smoked salmon or trout or roasted green pumpkin seeds on top of cream cheese with bits of lemon zest

8 Goat cheese with a dab of tapenade

9 Red pepper jelly with citrus-spiked cream cheese and roasted jalapeño bits

10 Serrano ham with Manchego cheese sliver and cherry tomato bit

11 Easy dips include chili sauce, tzatziki and roasted red pepper mayonnaise with Sriracha or even ketchup for kids. Try Tomato Chili Jam (Autumn 2012) and Romesco Sauce (Summer 2006).
SHARE