Cider Spice Cupcakes with Penuche Fudge Icing
Temps des Fêtes 2005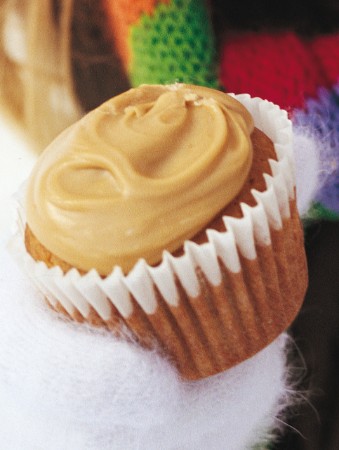 Cider Spice Cupcakes with Penuche Fudge Icing
Temps des Fêtes 2005
BY: Marilyn Bentz-Crowley
These cupcakes are quite portable with a firm icing that stays in place yet is amazingly smooth and luscious.
2 cups (500 mL) cake and pastry flour
2 tsp (10 mL) baking powder
1 tsp (5 mL) cinnamon
½ tsp (2 mL) allspice
¼ tsp (1 mL) freshly grated nutmeg
¼ tsp (1 mL) salt
1 cup (250 mL) brown sugar
½ cup (125 mL) butter, softened
¾ cup (175 mL) cider
2 eggs
1 tsp (5 mL) vanilla)

Penuche Icing
¼ cup (50 mL) butter
½ cup (125 mL) brown sugar
¼ cup (50 mL) whipping cream
½ tsp (2 mL) vanilla
1¼ cups (300 mL) icing sugar
1. To measure flour, stir, then spoon into measuring cup before leveling with a knife.

2. Preheat oven to 375º F (190ºC).

3. Line 12 muffin cups with paper liners. In a large mixing bowl, thoroughly stir flour with baking powder, spices and salt. Add sugar, butter, cider, eggs and vanilla.

4. Using an electric mixer, mix ingredients until flour is moistened, then whip at high speed for 1 minute. Stop and scrape sides of bowl; beat on high for another minute or until batter is lighter in colour and fluffy.

5. Dividing equally, spoon batter into cups. Bake in centre of preheated oven for 15 to 18 minutes or until a cake tester inserted into the centre of the cupcake comes out clean. Cool cupcakes, still in muffin tin, on a rack.

6. To make icing, melt butter in a small saucepan over medium heat; add brown sugar and cream. Stirring occasionally, bring to a boil; boil 1 minute. Remove from heat and stir in vanilla. Cool 15 minutes in pan on a rack without stirring. Then stir in icing sugar until smooth. Immediately ice cooled cupcakes, as frosting sets into fudge within minutes. Covered, cupcakes keep well for 2 to 3 days at room temperature.
SHARE