Cider-Brined Crown Roast of Pork
Automne 2012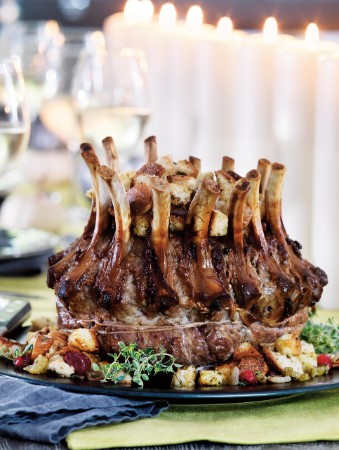 Cider-Brined Crown Roast of Pork
Automne 2012
BY: Jennifer MacKenzie
A crown roast certainly says celebration! The cider-spiked brine not only adds a complementary flavour, but it keeps the pork moist and succulent during the long, slow roast. Be sure to order your crown roast ahead and get it in time to brine it a day before roasting. "Stuffing" is a bit of a misnomer here since it's baked on the side, but you can fill the crown before serving for that picture-perfect presentation.
½ cup (125 mL) kosher or pickling salt
½ cup (125 mL) granulated sugar
1 tbsp (15 mL) black peppercorns
1 tbsp (15 mL) mustard seeds
½ tsp (2 mL) dried thyme
7 cups (1.75 L) unsweetened apple cider (sweet cider)
6 cups (1.5 L) cold water
1 crown roast of pork (12 to 14 ribs)
Cranberry Herb Stuffing (recipe follows)
1 For brine, combine salt, sugar, peppercorns, mustard seeds, thyme and 6 cups (1.5 L) of the cider in a large pot. Bring to a boil over medium heat, stirring until salt and sugar are dissolved. Remove from heat and stir in cold water. Let cool completely.

2 Place pork roast in a large food-safe bag (a turkey roasting bag works well) or nonreactive container that fits the roast and brine snugly. Pour in brine. Seal bag or cover container and refrigerate for 20 to 24 hours.

3 Meanwhile, place remaining cider in a saucepan and bring to a boil over high heat. Boil for about 10 minutes or until cider is reduced by about half. Set aside.

4 Remove pork from brine and discard brine. Pat roast dry. Place on a rack in a roasting pan and refrigerate uncovered for 30 minutes.

5 Preheat oven to 450°F (230°C).

6 Pat roast dry again, if necessary. Pour 2 cups (500 mL) water in bottom of the roasting pan. Roast for 30 minutes. Baste with some of the reduced cider. Reduce heat to 350°F (180°C) and roast for 2 to 2½ hours longer, basting occasionally with reduced cider and covering bones with strips of foil once they are browned, until a thermometer inserted in the thickest part of pork reads 155°F (68°C). Transfer pork to a platter or cutting board and let sit for 15 minutes.

7 If desired for presentation, spoon stuffing into centre of pork roast. Serve remaining stuffing alongside. Cut roast into chops to serve.
Serves 8 to 10, with leftover pork

CRANBERRY HERB STUFFING
2 tbsp (30 mL) butter or vegetable oil
3 stalks celery, sliced
2 onions, chopped
Salt and freshly ground pepper
2 cloves garlic, minced
1 tbsp (15 mL) chopped fresh sage
2 tsp (10 mL) chopped fresh thyme
½ cup (125 mL) chicken or vegetable stock or apple cider (approx.)
10 cups (2.5 L) cubed day-old bread, about 1 lb (500 g)
1½ cups (375 mL) fresh or frozen cranberries (thawed if frozen), chopped
¼ cup (60 mL) chopped fresh parsley
1 Melt butter in a skillet over medium heat. Add celery, onions and ½ tsp (2 mL) each of salt and pepper, and sauté for 8 minutes or until very soft and just starting to brown. Add garlic, sage and thyme, and sauté for 2 minutes or until onions are lightly browned.

2 Pour in ¼ cup (60 mL) of the stock and scrape up brown bits. Transfer to a large bowl and mix with bread, cranberries and parsley. Toss to combine. Add more stock to moisten stuffing (when you squeeze it, a handful should just hold together). Season with salt and pepper to taste. Place in a buttered shallow 10-cup (2.5-L) baking dish, cover with foil and set aside in the refrigerator.

3 Preheat oven to 350°F (180°C).

4 Bake stuffing (beside roast or on rack above roast) for about 30 minutes or until hot in the centre. Uncover stuffing and bake for 5 to 10 minutes longer or until golden and crispy on top.
SHARE