Chicken Caesar Tortellini with Toasted Almonds
Début de l'été 2009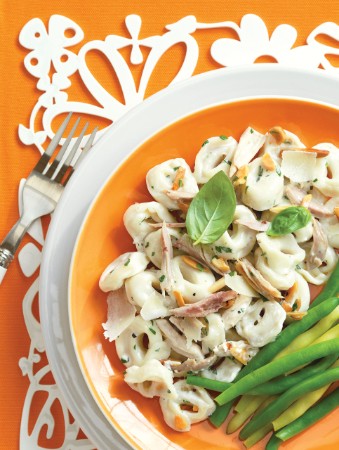 Chicken Caesar Tortellini with Toasted Almonds
Début de l'été 2009
BY: Marilyn Bentz-Crowley
True creativity is born of the need to use up perishable ingredients in a novel way—or when unexpected guests are arriving. One summer day I provided this as an à la minute lunch for a couple of chefs using what I had on hand. For best taste, purchase Caesar dressing from the refrigerated case at the grocery store.
8 oz (250 g) frozen or fresh cheese tortellini, about 3 1⁄2 cups (875 mL)
1⁄2 cup (125 mL) creamy Caesar dressing
1⁄4 tsp (1 mL) freshly ground black pepper
1⁄4 cup (50 mL) finely chopped fresh basil or parsley
1 1⁄2 to 2 cups (375 to 500 mL) bite-sized cooked chicken pieces
1⁄4 cup (50 mL) toasted slivered almonds
1⁄4 cup (50 mL) grated Parmesan
1. Add tortellini to a generous amount of salted boiling water; boil for minimum time on package, usually about 8 minutes. Rinse tortellini under cold running water until cool; drain.

2. Meanwhile, stir dressing with black pepper and basil. Turn pasta into dressing. To avoid breaking up pasta, use a big spoon to carefully mix the salad with a lifting motion from bottom. Salad can be covered and refrigerated for up to a day.

3. When ready to serve, gently fold in chicken and nuts. Strew Parmesan overtop; serve with a baguette and seasonal vegetables.
SHARE