Chestnut Gingerbread Trees
Temps des Fêtes 2016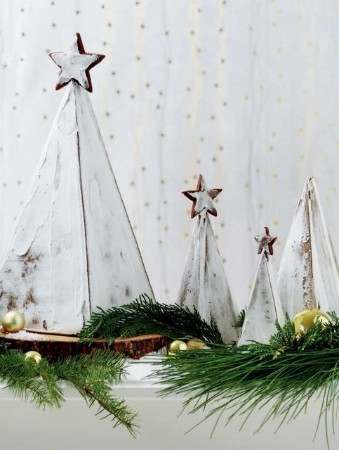 Chestnut Gingerbread Trees
Temps des Fêtes 2016
BY: Christopher St. Onge
Swapping out some of the usual flour for nutty chestnut flour makes for an incredibly easy-to-use dough that results in a seriously delicious gingerbread. Look for it at Italian specialty shops, well-stocked gourmet shops, or order online at amazon.ca. A second set of hands to help with assembly is a must.
4 cups (1 L) all-purpose flour
1 cup (250 mL) chestnut flour
1 tsp (5 mL) baking soda
½ tsp (2 mL) baking powder
1 cup (250 mL) unsalted butter, room temperature
1 cup (250 mL) packed light (golden) brown sugar
1 tbsp (15 mL) ground ginger
2 tsp (10 mL) ground cinnamon
1 tsp (5 mL) ground cloves
1 tsp (5 mL) ground allspice
1 tsp (5 mL) salt
2 large eggs
1 cup (250 mL) unsulfured molasses
¾ cup (175 mL) royal icing mix
1 tbsp (15 mL) water
1 Prepare an isosceles triangle template with two 7-inch (18-cm) sides and one 4-inch (10‑cm) side using thin cardboard or a clear plastic craft sheet. Create another with two 9-inch (23-cm) sides and one 6-inch (15-cm) side; set aside.

2 In a large bowl, whisk together flour, chestnut flour, baking soda and baking powder.

3 In a separate large bowl, using an electric mixer, cream butter and sugar until fluffy. Beat in spices, salt, eggs and molasses. Add flour mixture; combine on low speed. Divide dough into quarters; flatten each to form a disc and wrap each in plastic wrap. Chill for an hour.

4 Preheat oven to 350°F (180°C).

5 Line 2 large baking sheets with parchment. On a lightly floured surface, roll a quantity of dough ¼ inch (5 mm) thick. Using the templates and a sharp knife, cut out 2 of the smaller triangles and 1 of the larger, and carefully transfer to a baking sheet leaving ½-inch (1‑cm) space between triangles. Gather scraps and set aside. Repeat with remaining dough to create a total of 8 small triangles and 4 large. Re-roll scraps and cut into stars to top trees if desired. Working in batches if necessary, bake until crisp but not darkened, 10 to 12 minutes. Let cookies cool on wire racks.

6 Once all the panels are made, begin assembly: combine royal icing mix with water in a large bowl and beat with an electric mixer until combined (icing will be quite stiff). Scrape into a large piping bag fitted with a #9 or #10 round tip.

7 Using the icing as you would use glue, create two 4-sided smaller pyramids, and 1 larger pyramid, enlisting help to hold panels steady until stable; stand upright, wipe excess icing using a dry cloth, and attach stars if using. Let dry for 2 hours before proceeding to decorate as desired. To create and decorate a display as shown here, see below.
SHARE