Cherry-Almond Crumble Slices
Début de l'été 2020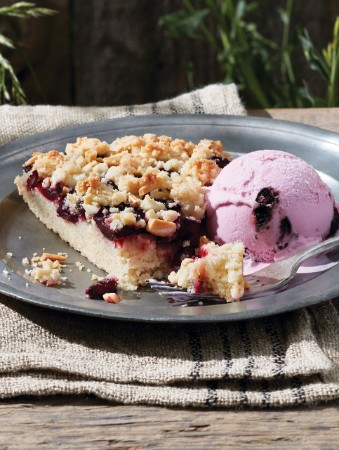 Cherry-Almond Crumble Slices
Début de l'été 2020
BY: Amy Rosen
Ah, summer… Ah, cherries and buttery crumbles and easy-to-eat wedges of deliciousness. Thyme adds an extra hit of summer lovin' to the mix. A nuanced taste that makes these slices of cherry crumble more than a little intriguing.
CRUST & TOPPING
2 ½ cups (625 mL) unbleached all-purpose flour
¾ cup (175 mL) sugar
1 tsp (5 mL) baking powder
½ tsp (2 mL) kosher salt
1 cup (250 mL) unsalted butter
1 tbsp (15 mL) vanilla extract
3 tbsp (45 mL) cold water
½ cup (125 mL) slivered almonds, roughly chopped
FILLING
4 cups (1 L) fresh or frozen dark sweet cherries, pitted and halved
Juice of ½ a lemon
¼ cup (60 mL) sugar
1 tbsp (15 mL) flour
1 tbsp (15 mL) cornstarch
1 tsp (5 mL) fresh thyme leaves (optional)
1 Preheat the oven to 375°F (190°C).
2 Spray two 8-inch (20-cm) nonstick pie plates or 1 nonstick 9 x 13-inch (23 x 33-cm) baking pan with nonstick spray. Note: You may also use 2 pizza pans if they're the non-perforated variety. (Buttery crust leaking through holes would mean big oven cleanup.)
3 To make the crust and topping, to a food processor add flour, ¾ cup (175 mL) sugar, baking powder and salt. Pulse once to combine. Cube cold butter and add to the food processor, along with vanilla. Pulse until butter becomes pea-sized bits, then stream in cold water, 1 tbsp (15 mL) at a time, until dough is moist enough to stay together when clumped in your hand.
4 Remove 2 cups (500 mL) of crust mixture to a medium bowl, and stir in chopped Set aside.
5 To make the cherry-thyme filling, drain any excess liquid from cherries (this only applies if you're using defrosted frozen cherries), and add cherries to a medium bowl. Add lemon juice, sugar, flour, cornstarch and thyme leaves. Stir to combine.
6 Press the base dough evenly into the bottom of the pie plates or Evenly spread cherry mixture overtop. Then evenly distribute clumps of crumb topping over cherries. Your fingers are usually the best tool for this.
7 Place pies or pan in the middle rack of the oven and bake for 40 to 50 minutes, or until golden brown. Let cool for 30 minutes before slicing.
Makes 16 slices or 24 squares
SHARE