Cacio e Pepe Beet & Ricotta Gnocchi
Autumn 2020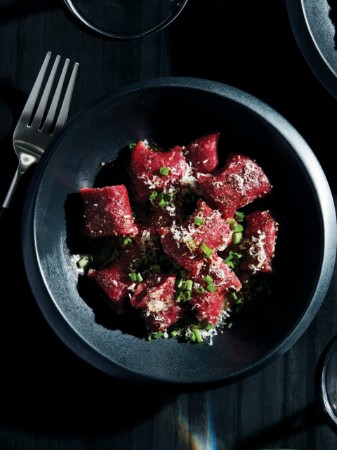 Cacio e Pepe Beet & Ricotta Gnocchi
Autumn 2020
BY: Victoria Walsh
Beets lend sweet, earthy depth of flavour and hot pink colour to classic gnocchi pillows. Finishing with lemon brightens the taste of the dish. Take care when adding, tasting and adjusting as needed—the same goes for incorporating the pepper and cheese.
1 lb (455 g) beets, about 3 medium beets or 2 very large ones
1 egg
¾ cup (175 mL) smooth traditional ricotta
1 tsp (5 mL) salt
2¾ to 3 cups (675 to 750 mL) all-purpose flour, divided
¼ cup (60 mL) butter, divided
½ tsp (2 mL) coarsely cracked pepper, divided
½ cup (125 mL) freshly grated Parmigiana-Reggiano, divided
1 lemon
2 tsp (10 mL) coarsely chopped chives, divided, for garnish
1. Preheat oven to 400°F (200°C).
2. Scrub and trim beets. Using a fork, pierce beets all over. Wrap each in foil. Set on a baking sheet and roast in centre of preheated oven until fork-tender, 1 to 1½ ⁄hours. When cool enough to handle, peel. Let cool completely.
3. Meanwhile, line 2 baking sheets with parchment.
4. In a food processor, whirl cooled beets, scraping down sides occasionally, until puréed. Add egg, ricotta and salt. Whirl to mix. Add 2½ cups (625 mL) flour. Mix on low until mixture begins to become a dough, adding more flour as needed. The dough will be very soft. Turn onto a heavily floured surface. Turn dough, coating the dough in flour. Cut into 6 portions. Using your hands, roll and shape a piece into a thin log about 1 inch (2.5 cm) thick. Cut into 1-inch (2.5-cm) pieces. Remove to prepared baking sheets. Repeat with remaining dough. You should have about 64 pieces total. This is not a classic gnocchi so that's an excuse to skip the tedious shaping with a fork.
5. Bring a large pot of salted water to a boil. When ready, drop about 2-dozen prepared beet gnocchi into boiling water at a time, spacing each apart. Gently boil until gnocchi rise to the surface, become tender and change colour slightly, 8 minutes. (Using a slotted spoon, loosen any gnocchi from the bottom after a couple of minutes of cooking.) Still using the slotted spoon, remove to a strainer, then a large platter or baking sheet. You will need to cook in several batches.
6. For serving, cook gnocchi in 2 batches. For each batch, melt 2 tbsp (30 mL) butter in a large frying pan set over medium heat. When bubbling, add boiled gnocchi. Cook until nicely coated, 2 to 3 minutes. Sprinkle with half of pepper and cheese and stir. Remove to plates. Finish with a squeeze of lemon juice and more freshly cracked pepper, if you like. Garnish with half of chives. Repeat with remaining ingredients. Serve warm.
SHARE