Brined Pork Chops with Fried Capers & Browned Butter
Printemps 2019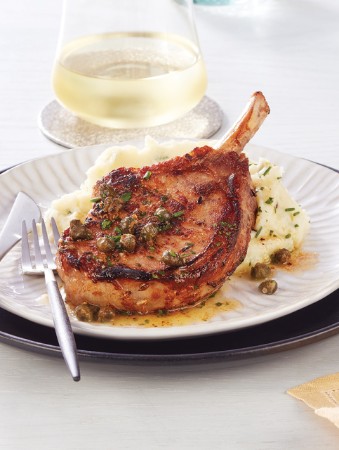 Brined Pork Chops with Fried Capers & Browned Butter
Printemps 2019
Pork chops tend to be dry but brining them first makes them succulent and flavourful. The nuttiness of browned butter and the salt crunch of capers add layers of texture to the dish. Serve with buttermilk mashed potatoes and baby broccoli. Use either pork loin or rib chops for this, but, to us, the rib chops have more flavour.
BRINE
1 cup (250 mL) apple cider
¼ cup (60 mL) kosher salt
¼ cup (60 mL) maple syrup
1 tsp (5 mL) fennel seed
3 cups (750 mL) water, divided
4 pork chops, 1 inch (2.5 cm) thick
Freshly ground pepper
1 tbsp (15 mL) vegetable oil

SAUCE
3 tbsp (45 mL) capers
⅓ cup (80 mL) unsalted butter
1 tbsp (15 mL) lemon juice
¼ cup (60 mL) chopped parsley
Salt and freshly ground pepper
1 Place cider, salt, maple syrup, fennel seed and 1 cup (250 mL) water in a pot and bring to boil. Stir to dissolve the salt then remove from heat. Add remaining water and cool completely to make brine.

2 Place pork chops in a large (minimum 8-cup/2-L capacity) resealable bag. Pour over cooled brine, seal bag and refrigerate for 12 hours.

3 Remove chops, drain well and pat dry. Season with pepper. Discard brine.

4 Preheat oven to 450°F (230°C).

5 Heat oil in a skillet over medium-high heat. Add chops in batches and sear until deep golden, about 1 to 2 minutes per side. Remove seared chops to baking sheet, reserving skillet. Transfer baking sheet to oven and bake chops until centre is just slightly pink, flipping midway, about 7 to 10 minutes (7 minutes for 1-inch/2.5-cm thickness, longer for 1½-inch/4-cm thickness). Remove chops from oven and place on plates. Prepare sauce while chops are baking.

6 Place reserved skillet over medium heat. Add capers and fry until they burst open like little flowers, about 2 minutes. Remove capers to a plate with a slotted spoon. Add butter and cook until the milk solids begin to brown, about 3 minutes. Remove from heat then add lemon juice, capers and parsley. Season with salt and pepper. Spoon over chops to serve.
SHARE