Beef and Rapini Stir-fry
Temps des Fêtes 2004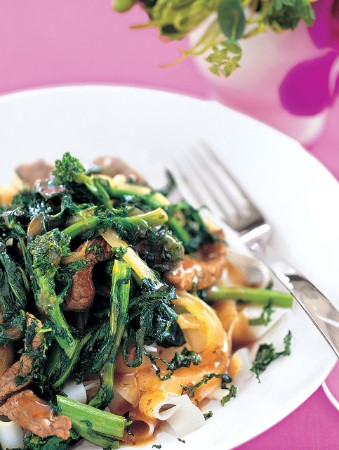 Beef and Rapini Stir-fry
Temps des Fêtes 2004
BY: Lucy Waverman
Serve with blanched broad rice noodles or steamed rice. Frying the rapini leaves ahead of time is messy but delicious. They become crisp and make a beautiful garnish as well as a texture highlight in the dish.
12 oz (375 g) sirloin steak
2 tbsp (25 mL) white wine
1 tsp (5 mL) sugar
1 tbsp (15 mL) soy sauce 1 tbsp (15 mL) chopped ginger root
4 cups (1 L) rapini
¼ cup (50 mL) vegetable oil
Salt and freshly ground pepper
½ cup (125 mL) sliced onion
½ cup (125 mL) chicken stock
1 tbsp (15 mL) rice vinegar
1 tbsp (15 mL oyster sauce
1 tbsp (15 mL) cornstarch mixed with 1 tbsp (15 mL) water
1 tsp (5 mL) sesame oil
1. Trim beef of fat, and slice against the grain into thin slices.

2. Whisk together wine, sugar, soy sauce and grated ginger root in a bowl. Add beef, and marinate for 30 minutes.

3. Trim about ½-inch (1-cm) from rapini stems and discard. Slice remaining stems into 1-inch (2.5-cm) pieces and reserve stems and leaves separately. Set aside about a third of the rapini leaves and sliver them.

4. Heat ¼ cup (50 mL) oil in wok or deep skillet on high heat. Working in batches, carefully add slivered rapini and fry for 30 seconds to 1 minute or until crispy. Do not be alarmed, they crackle and hiss a bit. Drain on paper towels. Season with salt.

5. Add more oil to the pan if necessary to make 2 tbsp (25 mL). Remove beef from marinade and season with salt and pepper. When oil is very hot add beef to oil. Do not crowd the pan. Work in batches, if necessary. Stir-fry until cooked on the outside but rare in middle, about 1 minute per batch. Remove meat and reserve.

6. Wipe out pan. Return to heat and add 1 tbsp (15 mL) oil. When hot, add rapini stems and onion to oil and stir-fry 1 minute. Add 2 tbsp (25 mL) water, cover and cook 1 minute. Add leaves, cover and steam for 1 more minute.

7. Stir in stock, vinegar and oyster sauce. Return meat and any juice. Stir everything together and drizzle in just enough cornstarch mixture to thicken sauce. Bring to boil stirring until thickened, then stir in sesame oil.

8. Place in serving dish and garnish with slivered rapini.
SHARE