Arugula Salad with Lentils, Squash & Smoked Almonds
Été 2016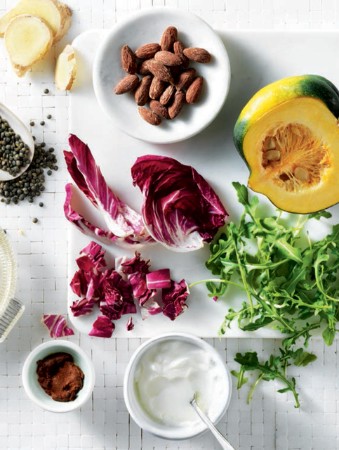 Arugula Salad with Lentils, Squash & Smoked Almonds
Été 2016
BY: Eshun Mott
This salad has a number of different components - which makes for very satisfying eating, but it can take a little time to assemble. You can cook the lentils and squash and prepare the dressing in advance, but do not combine until just before serving, to keep the flavours and textures distinct. Serve alongside an oaked Chardonnay.
1 cup (250 mL) French green lentils (Du Puy)
2 tbsp (30 mL) olive oil
3 cups (750 mL) sliced peeled squash pieces, about ¼ inch (5 mm) thick
Salt
Curried Yogurt Dressing (recipe follows)
1 cup (250 mL) chopped radicchio
1 cup (250 mL) hickory smoked salted almonds, coarsely chopped
1/3 cup (80 mL) dried cherries
4 cups (1 L) baby arugula
1 Place lentils in a small pot with enough cold salted water to cover them by at least 2 inches (5 cm). Bring to a boil, turn heat to medium-low and simmer 18 minutes or until tender but still al dente. Drain. Reserve.

2 Heat 1 tbsp (15 mL) oil in a nonstick frying pan on medium heat. Add squash and sauté for 12 minutes, stirring and adding remaining oil as needed until squash is tender and caramelized at the edges. Season well with salt.

3 Combine lentils and Curried Yogurt Dressing in a bowl and stir gently to combine. Add squash, radicchio, almonds and cherries; toss gently, then add arugula and toss until greens are just lightly dressed. Serve immediately.
CURRIED YOGURT DRESSING

Heat 2 tbsp (30 mL) canola oil in a small pot over medium heat. Add 2 tsp (10 mL) grated ginger and 1 tbsp (15 mL) Madras curry paste; sauté for 1 minute or until spices are fragrant. Remove from heat. Let cool. Whisk in 1 tbsp (15 mL) fresh lemon juice and ⅓ cup (80 mL) plain yogurt (ideally 4% MF); season with salt to taste.
Makes about 2/3 cup (160 mL)
SHARE