Apricot & Halloumi Skewers
Summer 2020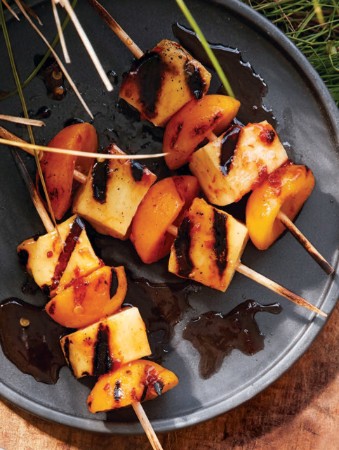 Apricot & Halloumi Skewers
Summer 2020
BY: Christopher St. Onge
I prefer a cooked apricot to a raw one—cooking seems to coax the juiciness out of them. They pair well with salty cheese like halloumi. Here both take a quick turn on the grill with a sweet glaze—a good pre-supper nibble to pair with the night's first cocktail. Chili garlic sauce is Vietnamese in origin and available on most grocers' shelves. Look for the rooster on Huy Fong's label—it's the most widely available brand.
3 tbsp (45 mL) liquid honey
2 tbsp (30 mL) lemon juice
1 tsp (5 mL) chili garlic or Sriracha sauce 12 small firm but ripe apricots
1 pkg halloumi
1 Preheat your grill to 375°F (190°C).
2 In a small pot over low heat, combine honey, lemon juice and chili garlic sauce. Warm and stir just until honey is melted. Remove from heat and set aside.
3 Halve and pit the apricots. Remove the halloumi from the wrapper and give it a rinse under cool running water. Pat dry and cut in half through the fold. Cut each half into 12 equal-sized pieces.
4 Thread 2 pieces of cheese and 2 apricot halves on each of twelve 4-inch (10-cm) skewers, alternating cheese and apricot. Brush each with glaze and grill for 4 to 6 minutes, turning every minute or so, or until golden and hot. Place on a platter and drizzle remaining glaze overtop. Serve hot.
SHARE