Almond Cake with Raspberry Compote
Printemps 2015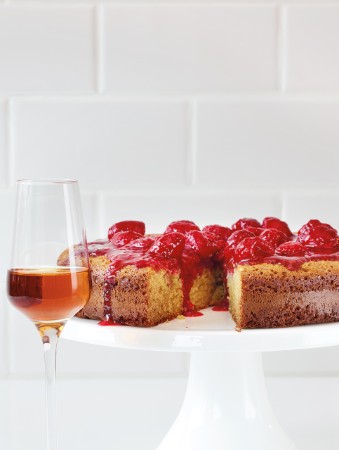 Almond Cake with Raspberry Compote
Printemps 2015
BY: Kristen Eppich
Nut flours such as almond meal are a great ingredient to include in gluten-free baking for both their flavour and their texture. Olive oil and eggs make this a very moist, decadent cake. Honey is used as the sweetener, so choose a good-quality honey with a flavour you like.
CAKE
8 oz (225 g), or 2 cups (500 mL) almond flour or meal
2 oz (60 g), or ½ cup (125 mL) millet flour
1 tsp (5 mL) baking soda
1 tsp (5 mL) baking powder
½ tsp (2 mL) salt
⅔ cup (150 mL) honey
¼ cup (60 mL) olive oil
1 tbsp (15 mL) grated lemon zest
4 large eggs

RASPBERRY SAUCE
3 cups (750 mL) fresh raspberries
¾ cup (175 mL) granulated sugar
⅓ cup (80 mL) water
1 tbsp (15 mL) tapioca
1 tbsp (15 mL) lemon juice
¼ tsp (1 mL) salt
1 Preheat oven to 325°F (160°C). Oil a 9-inch (23-cm) round baking pan, and line the bottom with parchment paper.

2 Stir almond flour with millet flour, baking soda, baking powder and salt in a large bowl.

3 Combine honey with olive oil and lemon zest in a medium bowl. Beat eggs with an electric mixer for 2 minutes or until tripled in volume. Stir honey mixture into flour mixture. Stir half of the beaten eggs into batter until combined. Fold in remaining eggs.

4 Pour batter into prepared pan. Bake for 40 to 45 minutes, or until the centre of the cake is set and no longer jiggles when pan is touched. Cover the cake loosely with foil after 25 minutes, or when it begins to darken.

5 Remove from oven and cool in pan for 5 minutes. Run a sharp knife along the inside of the pan and turn out onto a rack to cool fully.

6 Stir 2 cups (500 mL) raspberries, sugar, water, tapioca, lemon juice and salt in a saucepan over medium-high heat. Bring to a boil. Boil until sauce is thickened, about 2 minutes. Remove from heat and stir in remaining raspberries. Cool.

7 Poke holes into the almond cake using a skewer. Spoon raspberry sauce on top, allowing the syrup to soak in. Refrigerate until ready to serve.
SHARE