Triple Chocolate Brownies with Caramelized Pineapple
Winter 2011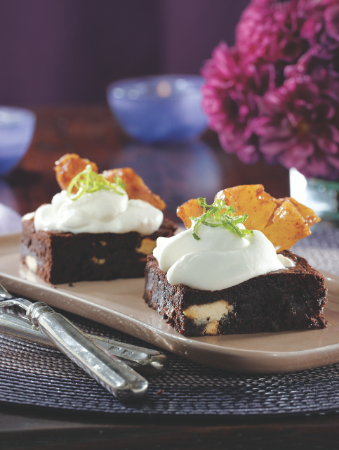 Triple Chocolate Brownies with Caramelized Pineapple
Winter 2011
BY: Julia Aitken
This decadent recipe makes nine brownies, more than you'll need for your Valentine's dinner. And, just how is that a problem? The brownies taste best at room temperature but will keep (tightly wrapped) in the fridge for up to three days. Since the brownies and pineapple are both quite sweet, all but the sweetest of "tooths" will be happy with unsweetened whipped cream.
TRIPLE CHOCOLATE BROWNIES
5 oz (150 g) good-quality dark chocolate (85% cocoa solids), chopped
½ cup (125 mL) unsalted butter, cubed
2 tbsp (25 mL) unsweetened cocoa powder
1 cup (250 mL) granulated sugar
2 eggs
2 tsp (10 mL) vanilla
¼ tsp (1 mL) table salt
½ cup (125 mL) all-purpose flour
1 bar (100 g) good-quality white chocolate, coarsely chopped (about ½ cup/125 mL)

CARAMELIZED PINEAPPLE1 small pineapple
2 tbsp (25 mL) unsalted butter
3 tbsp (45 mL) packed brown sugar
½ tsp (2 mL) cinnamon
1 tbsp (15 mL) lime juice

GARNISH
½ cup (125 mL) whipping cream
2 tsp (10 mL) icing sugar (optional)
Thin slivers of lime rind
1 Preheat oven to 350°F (180°C). Lightly grease an 8-inch (2-L) square baking pan. Line pan with a sheet of parchment paper that overhangs on 2 sides (this will make it easier to remove brownies from pan).

2 In a medium heatproof bowl set over a saucepan of hot (not boiling) water, melt chocolate and butter, whisking until smooth. Remove bowl from the heat. Whisk in cocoa powder until smooth.

3 In a large bowl, whisk sugar, eggs, vanilla and salt until combined. Whisk in chocolate mixture. Stir in flour just until no white streaks remain. Stir in white chocolate.

4 Scrape batter into prepared pan and smooth top level. Bake for about 35 minutes or until a toothpick inserted in centre of pan comes out with just a few sticky crumbs clinging to it.

5 Let brownies cool to room temperature in pan on wire rack. Use parchment to lift brownies from pan. Cut into 2-inch (5-cm) squares.

6 Trim top and bottom from pineapple. Cut pineapple in half lengthwise. Reserve half for another use.

7 Cut remaining piece of pineapple in half lengthwise and cut out core. Slice o_ peel and trim any "eyes" from pineapple. Slice pineapple crosswise into ½ -inch (1-cm) slices.

8 In a medium nonstick skillet, melt butter over medium heat. Stir in sugar and cinnamon and cook, stirring, until bubbly. Add pineapple slices and cook for about 8 minutes, turning once, until golden and sticky.

9 Meanwhile, whip cream (with icing sugar if you like) until it holds soft peaks.

10 Sprinkle lime juice over pineapple and allow to bubble. Remove skillet from the heat.

11 To serve, put 1 brownie on each of 2 plates. Top each brownie with a dollop of whipped cream. Spoon pineapple over or alongside brownies, dividing evenly. Garnish with lime rind.
Share