Salmon on Fennel Salad with Citrus Dressing
Winter 2008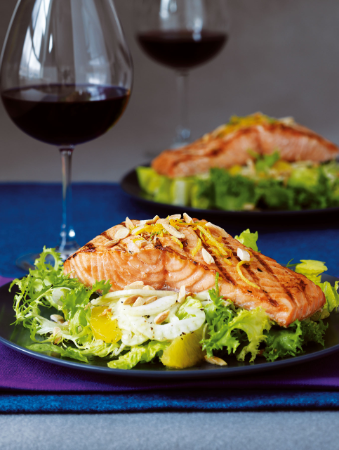 Salmon on Fennel Salad with Citrus Dressing
Winter 2008
BY: Marilyn Bentz-Crowley
This zesty salad complements salmon's richness while almonds add crunch. The fish can be served hot or cold as a light main course. To serve it as a hearty starter for a meal, cut fish fillets in half lengthwise before grilling. If serving salmon cold, grill right away. If serving hot, make salad first.
Salmon
½ lime
½ lemon
½ orange
4 skinless salmon fillets, each about 6 to 7 oz (175 to 200 g)
1 tbsp (15 mL) butter, melted

Salad
1 ½ tsp (7 mL) granulated sugar
1 small clove garlic, minced
¼ tsp (1 mL) salt
Several grindings of black peppercorns
¼ cup (50 mL) olive oil
2 oranges
1 large bulb fresh fennel
4 cups (1 L) baby salad greens or romaine
½ cup (125 mL) slivered almonds, toasted
1. Using microplane or other grater, zest lime, lemon and orange. Combine zests; set aside. Juice lime, lemon and orange; combine juices and set aside.

2. To grill salmon, preheat barbecue to medium-hot. Brush bright pink tops of salmon with butter; place buttered-side-down on grill for 4 to 5 minutes or until brown grill marks are evident. Turn salmon; continue grilling for another 4 to 5 minutes or until a fork used to separate the flakes of flesh show a slightly undercooked centre for medium or opaque for well-done. Sprinkle each fillet with a pinch or 2 of zest (all zest will not be used). If serving cold, cover and refrigerate immediately for up to a day.

3.To make salad, stir reserved juices with sugar, garlic, salt and pepper. Whisk in olive oil; set aside. Cut rind off oranges; section. Cut off green fronds from fennel; finely chop some of feather part for garnish. Cut bulb in half; core. Using a mandoline or fine blade of food processor, finely slice crosswise into slaw-like pieces. There should be 4 to 5 cups (1 to 1.25 L). Toss fennel and orange sections with dressing. (If making earlier in day, cover and refrigerate fennel mixture and dressing separately until ready to serve.)

4.Line serving plates with salad greens; top with fennel orange mixture. Lay salmon, hot or cold, over salad and strew with almonds and reserved fennel tops.
Serves 4 as main course, 8 as starter
Share