Saddle of Lamb with Mint Salsa Verde
Holiday 2015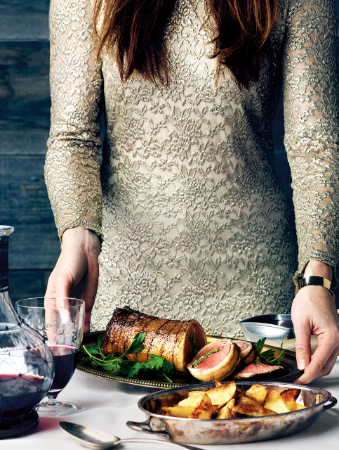 Saddle of Lamb with Mint Salsa Verde
Holiday 2015
BY: Lucy Waverman
A saddle of lamb, one of the most popular English cuts, is the loin chop section from both sides, unsplit (cut as one piece.) It looks like a saddle when it is prepared and is usually roasted. To carve a saddle of lamb, the meat is removed in one piece from each side and underneath, then carved into slices. The bones are not served. This recipe calls for a boned saddle which when tied looks a bit like a loin roast. You can substitute lamb loins for this but they will not look as pretty without the salsa verde in the centre. Serve with roast potatoes, creamed spinach and sugar snap peas.
MINT SALSA VERDE
3 green onions, finely chopped
1 cup (250 mL) packed mint leaves
½ cup (125 mL) packed parsley leaves
1 tbsp (15 mL) white wine vinegar
1 tsp (5 mL) chopped jalapeño pepper
½ tsp (2 mL) coarsely chopped garlic
1 tsp (5 mL) granulated sugar
1 tbsp (15 mL) chopped capers
2 anchovy fillets, chopped
3 tbsp (45 mL) olive oil plus 1 tbsp (15 mL) for searing lamb
Salt

1 lamb saddle, boned, about 2 lbs (1 kg)
1/4 cup (60 mL) red wine
1 cup (250 mL) chicken or beef stock
1 tbsp (15 mL) balsamic vinegar
1 tbsp (15 mL) cold butter
1 To make salsa verde, combine onions, mint leaves, parsley, vinegar, jalapeño, garlic and sugar in a food processor. Add in capers and anchovies. Pulse until chunky. Stir in 3 tbsp (45 mL) oil. Taste for seasoning, adding salt as needed. Reserve.

2 Open lamb of saddle flat. Spread ½ cup (125 mL) salsa verde over lamb. Roll into log shape and tie. Reserve remaining salsa verde.

3 Preheat oven to 425°F (220°C).

4 Heat 1 tbsp (15 mL) oil in heavy skillet on high heat and sear lamb 2 minutes per side, including ends, or until brown. Transfer to a roasting pan lined with a rack and bake for 20 to 25 minutes or until lamb is pink.

5 Remove lamb to a carving board to rest while making the sauce.

6 Skim fat from roasting pan and heat on the stovetop over medium-high heat. Add wine and stir, scraping all the brown bits on the base into the wine. Add stock and vinegar and bring to boil. Add 1 tbsp (15 mL) salsa verde into sauce and simmer until sauce has thickened, about 5 minutes. Stir in cold butter until incorporated then remove from heat. Serve with the lamb. Any leftover salsa verde can be reserved for another use.


Share