Roast Beef & Sweet Onion Jam on Gorgonzola Buns
Autumn 2011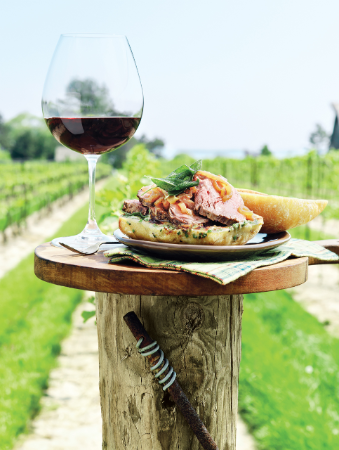 Roast Beef & Sweet Onion Jam on Gorgonzola Buns
Autumn 2011
BY: Christopher St. Onge
There are a lot of tricks to making quick caramelized onions, but low and slow is always best. Here, the onions cook for an hour or so, and the results are extraordinarily sweet and jam-like, a perfect foil to the piquancy of the Gorgonzola. If, however, you're not a fan of strongly flavoured cheese, you can substitute an equal amount of grated Comte or Gruyère for the Gorgonzola.
ONION JAM
2 tbsp (30 mL) butter
2 tbsp (30 mL) olive oil
2 large sweet onions, sliced
Salt
6 fresh sage leaves

GORGONZOLA BUNS
5 oz (150 g) Gorgonzola, crumbled
2 tbsp (30 mL) chives, chopped
1 tsp (5 mL) cracked black pepper
2 tbsp (30 mL) butter
2 tbsp (30 mL) flour
¾ cup (175 mL) milk
4 ciabatta or small kaiser buns, cut horizontally

BEEF
1½ lbs (750 g) beef fillet roast
Salt and freshly ground pepper
2 tbsp (30 mL) butter
Fried sage leaves for garnish (see TIP)
1 To prepare onion jam, heat butter and oil over medium heat in a large skillet with a tight-fitting lid. Add onions, cover and cook for 10 minutes or until onions have begun to soften. Remove lid, reduce heat to medium-low, season generously with salt. Stir in sage leaves and continue cooking, stirring occasionally, for 40 to 50 minutes or until onions are deeply golden. Onions may be made up to 2 days ahead, covered, refrigerated and brought to room temperature before use.

2 To prep buns, combine Gorgonzola, chives, and pepper in a medium bowl. Heat butter over medium heat in a small saucepan. Stir in flour. Add milk and whisk to ensure no lumps remain. Stir until mixture comes to a boil and becomes thick. Pour over cheese mixture and stir to combine. (Some lumps of unmelted cheese will remain.) Spread bottom buns with cheese mixture, being sure to cover edges.

3 To prepare beef, preheat oven to 400°F (200°C).

4 Season beef generously with salt and pepper. Melt butter over medium-high heat in a large ovenproof skillet. Sear beef 3 minutes per side, or until browned. Place in oven and cook for 12 to 15 minutes or until beef is medium-rare. Remove and allow meat to rest while finishing buns.

5 Preheat broiler. Place top and bottom buns on a baking sheet and broil for 1 to 2 minutes, or until top buns (without cheese mixture) are toasted. Remove tops and return bottoms to oven for 2 to 3 minutes longer, or until cheese is bubbling and browned in spots.

6 To assemble, carve beef into slices and divide between the 4 bottom buns. Dress each with a generous spoonful of the onions and a few fried sage leaves. Top with remaining bun halves.

Makes 4

TIP To fry sage leaves, heat a 1-inch (2.5-cm) depth of vegetable oil over medium- high heat in a small saucepan. Add sage leaves to oil and fry for 30 to 40 seconds, or until crisped but not browned. Remove with a slotted spoon and drain on paper towel. Fried leaves will keep for several hours, uncovered at room temperature.

Share