Creamy Chocolate Rice Pudding
Autumn 2009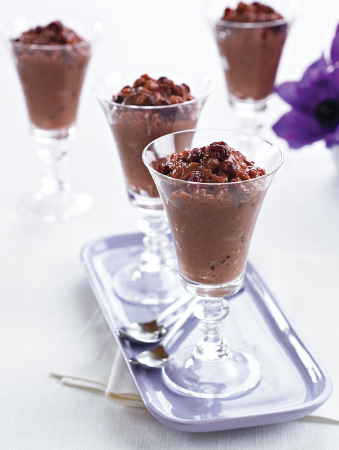 Creamy Chocolate Rice Pudding
Autumn 2009
BY: Emily Richards
This is a true comfort food that warms the heart and definitely the soul. Serve this dessert warm for oohs and ahhs after the meal. If you make it ahead simply warm it up on the stovetop or in the oven with some more chocolate milk stirred in.
3 cups (750 mL) chocolate milk
¾ cup (175 mL) Italian-style rice
½ cup (125 mL) raisins, chopped apricots,
dried cherries or cranberries
¼ cup (50 mL) granulated sugar
1 tsp (5 mL) vanilla
3 oz (90 g) milk chocolate, chopped
1. Bring chocolate milk and rice to boil in heavy saucepan over medium heat. Reduce heat to low and cover and cook, stirring occasionally for about 30 minutes or until most of the milk is absorbed.

2. Stir in raisins (or fruit), sugar and vanilla.Cover and let stand for 10 minutes. Stir in chocolate until melted, and serve.

Creamy Chocolate Rice Pudding: Use white milk instead of the chocolate and sprinkle with chocolate before serving.
Share