Coconut, Saffron Shrimp and Mango Salad
Holiday 2007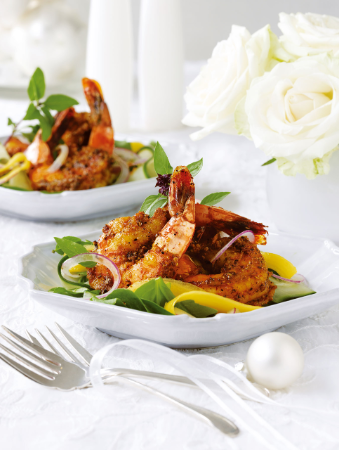 Coconut, Saffron Shrimp and Mango Salad
Holiday 2007
BY: Lucy Waverman
The tangle of tastes in this dish pleases many palates. The dressing is sweet and tart and highlights the flavours of the spiced shrimp and the sweet mango salad. Serve as a first course before a simple grilled chicken or beef dish. Sweet chili sauce is available in Asian stores.
Shrimp
¼ cup (50 mL) unsweetened shredded coconut
1 tbsp (15 mL) fennel seeds
1 tbsp (15 mL) coriander seeds
2 tsp (10 mL) black peppercorns
½ tsp (2 mL) saffron threads
1 lb (500 g) shrimps
1 tbsp plus 1 tsp (15 plus 5 mL) vegetable oil
Salt to taste

Mango Salad
3 cups (750 mL) baby lettuce mix
¼ cup (50 mL) Thai basil or regular basil leaves
1 ripe but firm mango
¼ English cucumber
½ small red onion, thinly sliced

Dressing
2 tbsp (25 mL) sweet chili sauce
2 tbsp (25 mL) lime juice
2 tbsp (25 mL) vegetable oil
2 tbsp (25 mL) chopped coriander
1. Heat a skillet over medium heat. Add coconut and toast for 1 minute or until just beginning to colour. Add fennel, coriander seeds, peppercorns and saffron threads. Toast for 1 to 2 minutes or until spices begin to pop and coconut is toasted. Pour into a bowl to cool. Grind spices in a spice or coffee grinder.

2. Toss shrimp with 1 tsp (5 mL) vegetable oil and all of spice mixture. Marinate for 30 minutes. Season with salt.

3. Preheat oven to 450°F (230°C).

4. Brush remaining 1 tbsp (15 mL) oil onto a baking sheet. Place shrimp on baking sheet in a single layer and bake for 3 to 4 minutes or until pink and curled. Cool.

5. Combine baby lettuce mix and Thai basil leaves together and scatter over a platter. Slice mango into ribbons with a vegetable peeler and lay on top of greens. Slice cucumber the same way and add to mango. Scatter over red onion.

6. Stir together chili sauce, lime juice and vegetable oil. Sprinkle over salad. Top with shrimp and sprinkle coriander overtop.
Share