Blackcurrant Brownies
Autumn 2012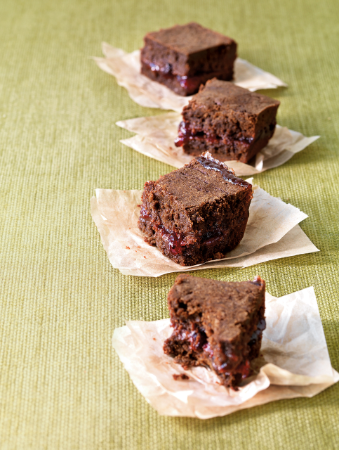 Blackcurrant Brownies
Autumn 2012
BY: Lucy Waverman
Moist chocolatey squares with a hit of blackcurrant for contrast. These freeze well and only take about 30 minutes to come back to room temperature. Freezing before baking gives you a much moister brownie. By lining two sides with the parchment you can easily remove the brownies.
6 oz (175 g) dark chocolate, chopped
1 cup (250 mL) unsalted butter, cut into pieces
4 large eggs
1 tsp (5 mL) vanilla extract
1 cup (250 mL) granulated sugar
½ tsp (2 mL) salt
1 cup (250 mL) all-purpose flour
2/3 cup (150 mL) blackcurrant preserves
1 Butter an 8-inch (20-cm) square baking pan and line the bottom and 2 sides with a piece of parchment paper.

2 Place chocolate and butter in a heavy pot over low heat and stir until melted. Remove pan from heat and stir in eggs and vanilla.

3 Combine sugar, salt and flour and stir into chocolate mixture. Scrape half of batter into prepared pan and freeze for 30 minutes or until firm.

4 Spread a thin layer of preserves on top of frozen batter and cover with remaining batter.Freeze another 20 minutes.

5 Preheat oven to 350°F (180°C).

6 Bake for 35 to 40 minutes or until brownies are set but still slightly moist in the middle.Let pan cool on a rack. Cut brownies to preferred size.
Share