Yogurt-Tahini Parfaits
Winter 2018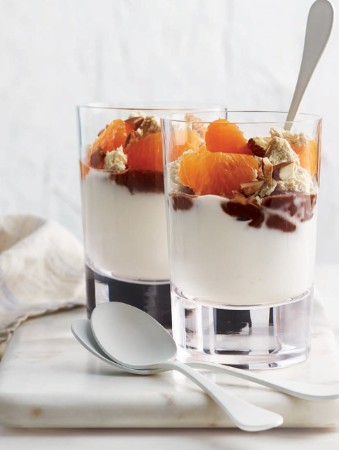 Yogurt-Tahini Parfaits
Winter 2018
BY: Amy Rosen
This is where healthy meets hearty. Greek yogurt is the base for a new-wave parfait with a sauce spun from tahini and date honey, and sprinkled with halvah (a dense, sweet sesame candy available at Middle Eastern stores), toasted almonds and fruit.
½ cup (125 mL) whole almonds, roughly chopped
2 cups (500 mL) full fat Greek yogurt (such as Liberte 5%)
½ cup (125 mL) tahini, well stirred
¼ cup (60 mL) date honey
2 oz (60 g) halvah, crumbled
1 pint raspberries (may also use mandarin segments, chopped orange, blueberries or your preferred fruit)
1. Spread chopped almonds in a medium skillet over medium heat and toast until lightly browned, stirring often, for about 2 minutes.

2. Stir yogurt until smooth and divide among 4 glasses or dessert bowls.

3. Mix together tahini and honey until combined. To make more pourable, microwave for 20 seconds and stir before serving.

4. Drizzle tahini-honey over yogurt and top with chunks of halvah, fruit and toasted chopped almonds.
SHARE