Winter Tomato, Chèvre & Hazelnut Tart
Holiday 2018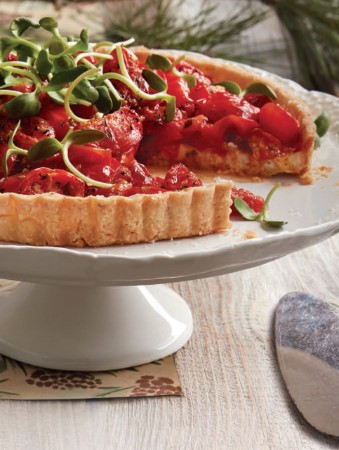 Winter Tomato, Chèvre & Hazelnut Tart
Holiday 2018
BY: Eshun Mott
Cherry and cocktail tomatoes taste good even in the depths of winter if you roast them with garlic and herbs. The hazelnut pastry is rich and delicate. Roast the tomatoes and bake pastry up to a day early, then warm the tart at 350°F (180°C) for 10 minutes before serving.
PASTRY
⅓ cup (80 mL) toasted, skinned hazelnuts
1 cup (250 mL) all-purpose flour
¼ tsp (1 mL) salt
¼ tsp (1 mL) sugar
½ cup (125 mL) cold unsalted butter, cut into pieces, plus extra for greasing
1 tbsp (15 mL) apple cider vinegar
1 to 2 tbsp (15 to 30 mL) ice water

FILLING
1 lb (455 g) cocktail size or Campari tomatoes, quartered though the stem end
1 pint (approx. 300 g) cherry tomatoes, halved through the stem end
2 tbsp (30 mL) olive oil
1 tbsp (15 mL) chopped thyme
2 tsp (10 mL) chopped garlic
Salt and pepper
5 oz (140 g) goat cheese log, at room temperature
¼ cup (60 mL) finely grated Parmesan cheese
Spicy microgreens for garnish (optional)
1. Preheat oven to 425°F (220°C).

2. Place hazelnuts in the bowl of a food processor and pulse until they are mostly ground. Add flour, salt and sugar to food processor and pulse until hazelnuts are very finely ground. Add butter, and pulse for about 10–seconds or until mixture resembles coarse meal. Sprinkle vinegar and 1 tbsp (15 mL) ice water over mixture and pulse until it just begins to hold together, adding remaining water as needed to make a dough that forms a ball without being sticky. Wrap in plastic wrap and refrigerate for about 1 hour or until firm.

3. While pastry is chilling, gently combine cocktail and cherry tomatoes with olive oil, thyme and garlic and season with salt and pepper. Pour out onto a large parchment-lined baking sheet and turn tomatoes so they are skin-side down. Roast for 35 to 40 minutes or until tomatoes have shrivelled but are still very juicy and the liquid around them has just begun to caramelize. Remove from oven and reserve. Refrigerate if making a day ahead.

4. Roll dough out on a lightly floured surface to a circle about 13 inches (33 cm) in diameter. Fit pastry into a 10-inch (25-cm) fluted tart pan with a removable bottom. Prick the bottom of the pastry with a fork and put pan into the freezer for 15 minutes or until it is solidly frozen.

5. Heat oven to 350°F (180°C). Place frozen tart shell (in pan) on a baking sheet. Line with a lightly buttered sheet of foil and fill with pie weights or dried beans. Bake for 25 minutes or until the pastry has set. Remove weights and foil and bake for 15 minutes longer or until pastry is lightly browned all over and cooked through.

6. Let pastry cool slightly (if made a day ahead, rewarm slightly in oven), then crumble in goat cheese. Use an offset spatula to carefully spread goat cheese evenly (pastry is fragile). Sprinkle with Parmesan. Use a rubber spatula to transfer tomatoes evenly onto tart. Sprinkle with microgreens if desired. Serve warm or at room temperature.
SHARE