Whole-Citrus Candied Ham
Spring 2020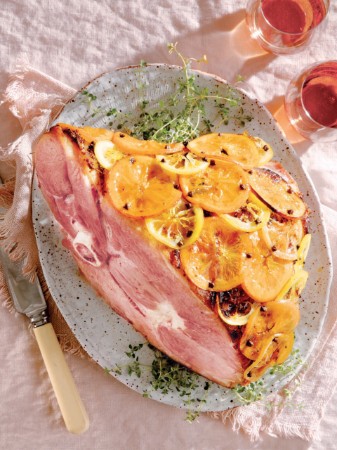 Whole-Citrus Candied Ham
Spring 2020
BY: Victoria Walsh
Move over pineapple! Candied citrus imparts a sweet-sour taste and creates a jewelled, colourful topping all while sealing in flavour.
1 orange
1 lemon
½ to 1 cup (125 to 250 mL) granulated  sugar
8 to 12 lbs (3.63 to 5.44 kg) skinless, smoked and cured bone-in ham
2 tbsp (30 mL) honey
2 tbsp (30 mL) grainy mustard
2 tsp (10 mL) whole cloves
1 Preheat oven to 300°F (150°C).
2 Using a sharp knife, slice orange and lemon into very thin Place sugar in a shallow bowl. Lightly dip each side of each slice in sugar then place on a parchment-lined baking sheet. Bake in the centre of the preheated oven, turning halfway through until glossy and lightly candied, about 30 minutes. Let cool completely.
3 Meanwhile, using a sharp knife, score the top of the ham by making shallow cuts about 1 inch (2.5 cm) apart, creating a diamond pattern.
4 Bake ham in the centre of preheated oven until cooked through and an internal temperature reads 160°F (71°C). This will take 15 to 20 minutes per lb, and depending on the size of your ham, 2 to 4 hours of overall baking time.
5 Meanwhile, stir honey with mustard in a small About an hour before the roast is done, remove from the oven allowing the surface to cool slightly. Brush half of honey mixture over ham. Approximately 30 minutes before roast is done, brush ham with the remaining honey mixture. Using 2 to 3 cloves for each candied citrus slice, carefully fasten to ham in an overlapping pattern. Continue baking until ham is cooked through. If candied citrus begins to darken slightly, loosely cover with foil then continue baking.
6 Remove candied-citrus slices and set them aside. Discard cloves. Place ham cut-side down on a carving board. Starting at the top, carefully slice ham towards the bone. Cut along the bone releasing the slices. Arrange ham slices over a large serving platter. Top with citrus slices. Serve warm or at room temperature. Fresh, the cooked leftover ham will keep well, covered and refrigerated for 3 to 4 days.
SHARE