White Wine Syrup
Holiday 2018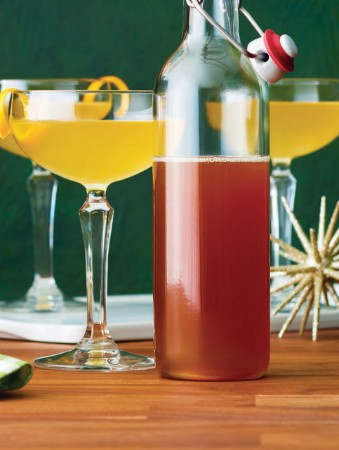 White Wine Syrup
Holiday 2018
BY: Tonia Wilson-Vuksanovic
This versatile syrup gets a little piquancy from fragrant, spicy pink peppercorns, while the citrus zest adds lovely flavour and an apricot hue.
2 cups (500 mL) Sauvignon Blanc or other dry white wine
1 cup (250 mL) granulated sugar
Zest of 1 lemon
Zest of 1 navel orange
2 tbsp (30 mL) pink peppercorns, lightly crushed
1. In a small saucepan, combine wine, sugar, lemon zest, orange zest and peppercorns. Cook over medium heat for 2 minutes to dissolve sugar, then simmer over low heat for 15 minutes to infuse flavours.

2. Increase heat to medium-high and reduce liquid to ¾ cup (175 mL).

3. Carefully strain liquid and let cool. Refrigerate until ready to use, and serve warm or at room temperature. Keeps in refrigerator for 2 weeks.
Makes about ¾ cup (175 mL)
SHARE