White Wine Fettucine Alfredo
Autumn 2019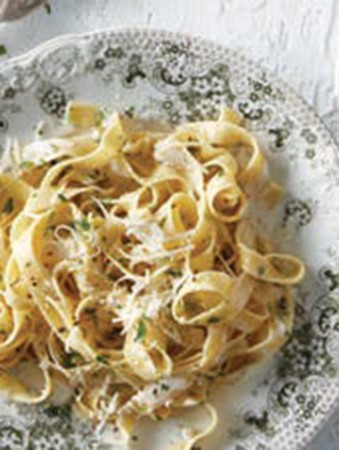 White Wine Fettucine Alfredo
Autumn 2019
BY: Victoria Walsh
Silky and comforting, this classic crowdpleaser never gets old. A hefty splash of wine elevates the flavour and allows the notes of the wine to come through. Chardonnay's a sophisticated choice, but a cheerful, citrusy vino such as Sauvignon Blanc or Pinot Grigio would work well, too.
3 tbsp (45 mL) butter, cut into small pieces
1 large or 2 small garlic cloves, minced
1 cup (250 mL) dry white wine such as Chardonnay
1 ¼ cups (310 mL) 35% whipping cream
½ tsp (2 mL) kosher salt or ¼ tsp (1 mL) table salt
1 lb (455 g) fettuccine
1 ½ cups (375 mL) grated Parmigiano-Reggiano, plus more for garnishing
¼ cup (60 mL) finely chopped parsley
Freshly grated nutmeg and black pepper
1 Bring a large pot of water to a boil.
2 Melt 2 tbsp (30 mL) butter in a medium saucepan set over medium-low heat. Add garlic and stir until softened, about 1 minute. Pour in a splash of wine. Scrape up and stir in any brown bits. Pour in remaining wine. Cook, stirring often until reduced by half, 12 to 15 minutes. Slowly stir cream into reduced wine mixture. Gently simmer over medium heat until thickened, 15 minutes.
3 When water is boiling, generously salt so it tastes of the sea. Cook pasta until almost al dente. This will take about 8 minutes for dried fettuccine. Drain well. Stir into cream sauce. Stir and toss over medium heat until sauce clings nicely and pasta is cooked al dente, about 2 minutes. Stir in 1 ½ cups (375 mL) cheese, parsley, nutmeg and pepper. Add remaining tbsp (15 mL) butter. Stir to mix. Taste and season to your liking. Serve immediately alongside more cheese, parsley and pepper.
SHARE