White Ginger Cake with Lemon Curd and Buttercream Icing
Early Summer 2006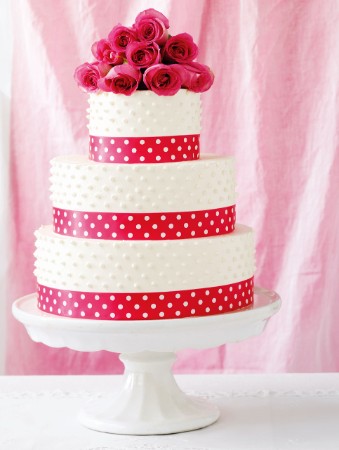 White Ginger Cake with Lemon Curd and Buttercream Icing
Early Summer 2006
BY: Eshun Mott
This is a light and simple wedding cake recipe. The preserved ginger makes it feel festive, the lemon curd adds a refreshing tang and the buttercream icing brings richness to the occasion. A three-tiered wedding cake with 6-inch, 9-inch and 12- inch (15-cm, 23-cm and 30-cm) round layers (with each tier having 2 layers) will serve about 100 people. (Tips follow).
Cake
This quantity of batter will yield two 9 x 1½-inch (23 x 4-cm) cake layers, or can be used to make one 6-inch (15-cm) and one 12-inch (30-cm) layer. Making more than this amount at once is not recommended, but rather work in batches keeping both your mixing bowl and oven size in mind. You will ultimately need 3 batches of cake to end up with all 6 llayers.

4 cups (1 L) all-purpose flour
2 tsp (10 mL) baking powder
½ tsp (2 mL) salt
1 cup (250 mL) unsalted butter, softened
3 cups (750 mL) sugar
2 tsp (10 mL) vanilla extract
2 tbsp (25 mL) fresh ginger juice (directions follow)
4 large eggs
2 cups (500 mL) buttermilk
1 cup (250 mL) chopped preserved ginger

* To make fresh ginger juice, grate about 4-inches (10-cm) of peeled fresh ginger on a fine grater or rasp over a plate, and press grated ginger through a fine strainer to extract juice (discarding woody solids).

Ginger Syrup
This syrup has the fresh spicy flavour of fresh ginger, but you could use some of the sweeter syrup left over from the jars of preserved ginger if you'd prefer. The quantity of ginger syrup needed will depend on the age of your cakes, if your cakes are very fresh, you will only need to brush them lightly with the syrup, but if they are a few days old, you will likely need a double recipe of the syrup.  Ginger syrup can be made a week ahead of time and kept refrigerated.

1 cup (250 mL) sugar
1 cup (250 mL) water
2 oz (60 g) ginger, thinly sliced

Lemon Curd
This recipe yields 1½ cups lemon curd, which is enough to fill both the 6-inch (15-cm) and 9-inch (23-cm) layers. You will need to make 2 batches to fill all 3 layers.  Reserve egg whites for making buttercream icing.  Lemon curd can be kept in the refrigerator for 1 week.

2 large eggs
4 large egg yolks
¾ cup (175 mL) sugar
½ cup (125 mL) lemon juice
2 tsp (10 mL) grated lemon rind
3 tbsp (45 mL) unsalted butter, cut into pieces
Buttercream Icing
Making buttercream icing can be intimidating if you've never done it before, but it is surprisingly forgiving. The key thing is to have your meringue as cold as your butter.  If your meringue is still the slightest bit warm it will melt the butter as you add it and thin the icing out very quickly, you should then chill it for a few minutes before continuing to add the rest of your butter.  If at any point the icing looks curdled, it simply means that your butter is colder than your cool meringue, so just continue beating and the icing will smooth out as the butter warms up.You can make buttercream well ahead of time, and keep it refrigerated.  Just bring to room temperature and beat well before using. This recipe yields about 4 cups (1 L) icing, which is enough to ice the 9-inch (23-cm) layer with simple decorations, and still have some leftover, but the whites alone create as much volume as most standing mixer bowls can hold, so it's best to make it in batches.

4 large egg whites
2 tbsp (25 mL) sugar
1 cup (250 mL) sugar
½ cup (125 mL) water
2 cups (500 mL) unsalted butter, cut into tablespoon-size pieces
1.To make cake, preheat oven to 325°F (160ºC).

2. Butter two 9x 2-inch (23 x 5-cm) cake pans and line the bottoms with rounds of parchment paper.

3. Sift together flour, baking powder and salt.

4. Use an electric mixer to cream butter and sugar until light and fluffy.  Add vanilla extract and ginger juice and beat until incorporated. Add eggs 1 at a time, beating well in between.  Add 1/3 of flour mixture,
beating until just combined, then half of buttermilk, and continue alternating until all ingredients have been combined. Add chopped preserved ginger to batter and stir to distribute evenly.

5. Divide batter between cake pans and bake for 1 hour or until cake is evenly golden brown, the cake has begun to pull away from the sides of the pan and a cake tester comes out clean.  (6-inch (15-cm round cakes take about 50 minutes, and 12-inch (30-cm) round cakes take about 1 hour, 15 minutes.)  Cool in pan for 10 minutes, then run a sharp flexible knife around the edge of each cake, and turn the cakes onto a wire rack. Remove parchment paper, and cool completely.  Wrap cakes well in plastic wrap unless you intend to fill and ice them right away.

6. While your cake is baking you can make the ginger syrup.  Place sugar, water and sliced ginger in a small heavy pot.  Heat over medium heat, stirring just until sugar has dissolved.  Bring to a boil, and simmer for 5 minutes.  Remove from heat, and when it has cooled, strain out the ginger.

7. To make lemon curd, beat whole eggs plus yolks with sugar in a small heavy pot.  Stir in lemon juice, grated lemon rind and butter and cook on medium heat, whisking constantly for 5 minutes or until curd is smooth and thick.  Pour curd into a clean bowl and press plastic wrap into its surface to prevent it from forming a 'skin' on top.  Chill until ready to use.

8. To make buttercream icing, place egg whites in the bowl of a standing mixer and beat until foamy.  Add 2 tbsp (25 mL) sugar, a little at a time, and beat until egg whites hold a drooping peak when beaters are pulled up.  Leave mixer set up while you make sugar syrup.
9. Place remaining 1 cup (250 mL) of sugar and water in a small heavy pot, stir just to moisten the sugar, then bring to a boil over medium heat.  Boil for about 7 minutes (without stirring) or until syrup reaches firm ball stage, 248°F (120ºC) on a candy thermometer. Remove from heat. Turn your mixer on, and slowly, carefully, pour hot sugar syrup into your eggs, being careful not to splatter yourself. Continue beating until meringue has cooled completely, about 8 to 10 minutes more.  Meringue will be very stiff.

10. Switch the whisk attachment on your mixer to a paddle if you have one (this is not crucial, but it does make a slightly smoother icing), and begin beating in butter, a few tablespoons at a time until all the butter has been incorporated and icing is smooth.

11. To assemble the cake, you will need cake boards the size of each of your layers and 2 sets of 3 or 4 dowels to hold them up. You will also need icing spatulas, ideally a long straight metal one, a piping bag and whatever tips you need for the decorative effect you desire, (if you can borrow or purchase an inexpensive rotating cake stand it will help you greatly in icing your cake evenly).  These items are available at high end kitchen stores and some bulk stores.

12. First make sure that your cake layers are level, and use a serrated knife to trim any raised parts or rough edges as needed.  You may even want to carefully slice off the top crust of the cake that will form your bottom layer to ensure that the cake is tender and pale gold throughout.  Use a pastry brush to moisten the inside layers of the cake with ginger syrup (this adds both flavour and moisture to the cake; use as needed).  Place the bottom layer of each cake on the appropriate cake board, using a dab of icing to 'glue' cake to board. Spread the bottom layer evenly with lemon curd (slightly more than ¼- inch (5-mm) thick is ideal).  Place the top cake layer of each cake onto the one coated in lemon curd and clean up any curd that has spilled out, or fill in any empty gaps.
13. The first step in decorating your cake is called the 'crumb coat,' which means that you cover your cake in a thin layer of buttercream icing that will help keep any cake crumbs from marring the finished layer of icing on your cake.  This layer need not be pretty or perfect, but should completely cover your cake.

14. When your crumb coat has become firm, place a cake layer on the cake stand, and beginning with the sides, use your spatula to spread an even layer of icing onto the cake. To smooth the layer, dip your spatula into hot water, then wipe with a damp towel to remove any drips.  Hold your spatula firmly perpendicular to and against the side of your cake while you rotate it, and you should end up with a smooth finish.  Then use your spatula to pull the top overhanging edge of icing onto the top of the cake, adding more icing as needed to cover it completely.  Rewarm and wipe your spatula, then placing the tip of the spatula at the centre of the cake, and its edge against the icing, rotate the cake to smooth it out. You will now have a slightly rough edge of icing overhanging the smooth sides.  Prepare your spatula as before, and use it to 'pull' the overhang diagonally downwards to incorporate it into the smooth sides. You are now ready to pipe on any additional decorations you desire.  Repeat until all cakes have been decorated.

15. When you are ready to place the layers on top of each other, measure the thickness of your finished bottom cake layer.  Decide whether you want your cake to have space between the layers (this makes the cake look more airy) or to have the layers sit on top of each other.  Cut the dowels and carefully press them, equidistant from the middle of the cake, into the cake to support the next layer.  Repeat with the middle layer.  Add final decorations if need be and (finally) you are done.

Tips
You may be able to rent large wedding cake pans.  Ask in stores that sell cake decorating supplies.

Icing a cake properly is a skill that takes practise to perfect.  Whether you are making this cake for your own wedding or for that of a family member or friend, it is wise to make up a batch of buttercream icing for a birthday cake or other less formal event, and practise your technique.
 
If you would love to have a homemade cake but doing the icing yourself seems too intimidating, you could look for a professional baker who is willing to ice your cake for you, which will save you the stress and still be a way to keep the costs of a wedding cake way down.

Buttercream icing is classic and delicious, but does not hold up well in heat.  If your wedding cake needs to be on show during an outdoor summer wedding, you should consider other icing options such as rolled fondant or marzipan.

Iced cakes can be easily decorated with curls of white chocolate, plump clusters of berries, fresh flowers or greenery -  just ask your florist to ensure you don't use anything toxic -  and be sure to remove any inedible decorations before serving.  Look through wedding magazines for inspiration.
SHARE