Whisky-Cured Salmon with Mustard-Lemon Crème Fraîche
Winter 2018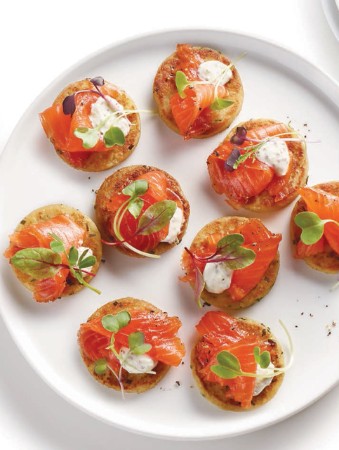 Whisky-Cured Salmon with Mustard-Lemon Crème Fraîche
Winter 2018
BY: Julia Aitken
Scotland's River Spey may be famous for its wild salmon but, in an ironic twist, it's the fattier, more succulent farmed salmon that works best in this Scottish version of gravlax. Since the salmon is served uncooked, buy the freshest fish you can find.
SALMON
1 vanilla bean
½ cup (125 mL) lightly packed brown sugar
¼ cup (60 mL) kosher salt
2 tsp (10 mL) coarsely ground black pepper
2 very fresh centre-cut organic farmed salmon fillets with skin, each about 1 lb (500 g)
1½ oz single malt whisky
Microgreens or fresh chives for garnish
Scottish Tattie Scones (recipe follows)

MUSTARD-LEMON CRÈME FRAÎCHE
1 cup (250 mL) crème fraîche
1½ tbsp (22 mL) grainy Dijon mustard
¼ tsp (1 mL) finely grated lemon zest
Kosher salt and freshly ground black pepper to taste
1. For salmon, split vanilla bean lengthwise with a small sharp knife and scrape out seeds into a small bowl. Reserve vanilla bean.

2. Add brown sugar, salt and pepper to vanilla seeds and stir to combine. Set aside.

3. Rinse salmon fillets under cold running water then pat dry with paper towel. Run your fingers lightly over flesh side of each fillet, checking for tiny bones. If you find any, remove them with clean tweezers.

4. With a very sharp knife, cut shallow slashes at 1-inch (2.5-cm) intervals in skin side of each salmon fillet, taking care not to cut too deeply into flesh.

5. Choose a shallow dish just large enough to hold 1 salmon fillet and sprinkle ¼ cup (60 mL) of sugar mixture evenly over base of dish. Put 1 salmon fillet, skin-side down, in dish and drizzle evenly with whisky.

6. Sprinkle salmon fillet in dish with all but ¼ cup (60 mL) remaining sugar mixture. Top with remaining salmon fillet, skin-side up, arranging fillet so that thin end lies on top of thick end of fillet in dish. Sprinkle with remaining sugar mixture. Tuck vanilla bean into dish.

7. Lay a piece of plastic wrap directly over salmon, tucking it down sides to cover salmon completely. Put a plate slightly smaller than dish directly on top of salmon. Top this plate with weights or full cans of food (large cans of tomatoes work well) to weigh it down.

8. Refrigerate salmon. After 12 hours, remove plate and plastic wrap, take salmon "sandwich" apart and baste flesh side of each fillet with juices in dish. Reassemble "sandwich" and flip it over. Cover salmon with fresh plastic wrap and replace plate and weights. Repeat this process every 12 hours for 3 days.

9. After 3 days, remove salmon from dish. Scrape off any remaining sugar mixture and discard, along with vanilla bean. (Salmon can be wrapped tightly in plastic wrap and refrigerated for up to 2 days before serving).

10. For mustard-lemon crème fraîche, stir together crème fraîche, mustard and lemon zest in a small bowl. Season with salt and pepper to taste. Chill until ready to serve.

11. To serve, thinly slice salmon on an angle, cutting slices away from skin as you work. Arrange overlapping slices of salmon on a serving platter. (Salmon can be refrigerated for up to 8 hours at this point; remove from fridge about 30 minutes before serving.)

12. Garnish platter with microgreens and serve salmon with Scottish Tattie Scones and mustard- lemon crème fraîche on the side. Or, top the scones with salmon and garnish each with a dollop of mustard-lemon crème fraîche and some microgreens.
SCOTTISH TATTIE SCONES

These tattie scones (a.k.a. potato pancakes) are at their fluffest best served straight from the griddle, but they do freeze well. Lay the cooked scones in a single layer on a parchment-paperlined baking sheet and let cool completely. Freeze for 1 to 2 hours until firm, then transfer them to a large freezer bag and seal tightly. Reheat scones straight from the freezer, either in a buttered nonstick skillet over medium-low heat for 4 to 6 minutes, flipping once, or on a buttered baking sheet in a 300°F (150°C) oven for about 10 minutes. Try the scones for breakfast too, in which case, increase the salt added in step 2 to ¾ tsp (4 mL).

1 lb (500 g) russet potatoes, about 3 medium
1 tsp (5 mL) kosher salt, divided
¼ cup (60 mL) unsalted butter, cubed
½ tsp (2 mL) freshly ground black pepper
1 cup (250 mL) all-purpose flour plus additional flour, if necessary
¾ tsp (4 mL) baking powder
3 tbsp (45 mL) finely chopped chives
Additional unsalted butter for greasing
1. Peel potatoes and cut into chunks. Put potatoes in a medium saucepan with enough water to cover them by 1 inch (2.5 cm). Add ½ tsp (2 mL) salt and bring to a boil over high heat. Reduce heat to medium-low and cook, covered, until very tender, 20 to 25 minutes.

2. Drain potatoes and return them to saucepan over low heat, shaking saucepan to dry out potatoes. Remove from heat. Add butter, pepper and remaining salt to potatoes and mash roughly.

3. With a hand-held electric mixer, beat potatoes just until smooth and free of lumps. (Don't overbeat or mashed potato will become gluey.) Let cool slightly.

4. In a medium bowl, whisk together 1 cup (250 mL) flour and the baking powder. Gently stir flour mixture into warm potatoes until well combined. Stir in chives.

5. Turn potato dough out onto a lightly floured surface and knead gently until smooth. (Dough will be very soft; gently knead in additional flour if dough is too soft to roll out.) Pat out dough to a disc. With a floured rolling pin, roll out dough to ¼-inch (5-mm) thickness. Using a 2-inch (5-cm) cutter, cut dough into rounds, re-rolling trimmings once.

6. Heat a griddle or large nonstick skillet over medium heat then brush with a little butter. Working in batches, fry scones, flipping them once, until golden brown and slightly puffy, 6 to 8 minutes, reducing heat to medium-low if scones brown too much. If serving immediately, keep each batch warm while you cook remaining scones. If making ahead, let scones cool completely on a wire rack.
SHARE