Walnut Cracker Bread with Cheese
Holiday 2005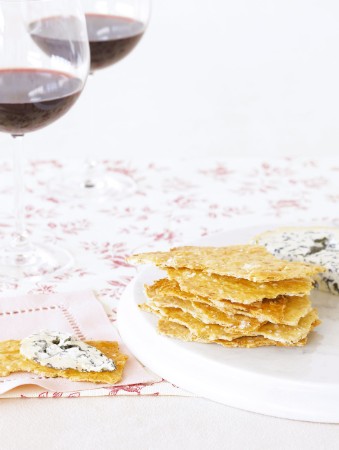 Walnut Cracker Bread with Cheese
Holiday 2005
BY: Lucy Waverman
This cracker bread keeps very well in an air-tight tin but I find that I like to reheat for 5 or 6 minutes in a 350ºF (180ºC) oven to make sure it keeps its crispness.
3 cups (750 mL) all-purpose flour
2 tbsp (25 mL) sugar
1 tbsp (15 mL) kosher salt
1 cup (250 mL) butter, cut into cubes
1 tsp (5 mL) fennel seeds
1 cup (250 mL) chopped walnuts
¾ cup (175 mL) water
1 egg, beaten
1. Combine flour, sugar, 2 tsp (10 mL) salt, butter, fennel seeds and walnuts in the bowl of a food processor. Process until butter is the size of peas. Add enough water to bring the dough together (it may be slightly more or less than ¾ cup /175 mL). Put dough into a bowl and knead lightly together until it forms a ball.

2. Flatten dough into a disc and wrap dough in plastic. Chill for 30 minutes.

3. Preheat oven to 350ºF (180ºC).

4. Divide dough into 4 and roll out pieces as thinly as possible into irregular shapes. Prick with a fork. Brush with beaten egg and sprinkle with remaining salt.

5. Bake pieces 1 baking sheet at a time for 18 minutes or until light golden and crisp. Place on a rack to cool.

6. Break crackers into whatever shape they break into and serve with cheese.
Cheese Recommendations
When selecting cheeses to serve with Châteauneuf-du-Pape, the key is complexity. Because Châteauneuf-du-Pape is a very powerful wine you'll need an equally colourful cheese to stand up to its rich flavour. Blue cheeses like Roquefort, a sharper, robust cheese - are ideal. Fourme d'Ambert and Bleu d'Auvergne are mellow as far as blue cheeses go, but they have complex flavours that match the wine well. Soft sheep or goat cheeses from the south of France are also wonderful complements. Sheep's milk cheeses such as Perail or Perac and Rocamadour have complex flavours that are wild and nutty. Choose cheeses that originate from the same area as Châteauneuf-du-Pape because they will have complementary flavours.

SHARE