Vietnamese Chicken Rolls
Summer 2016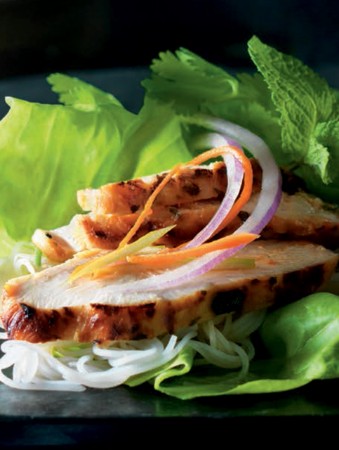 Vietnamese Chicken Rolls
Summer 2016
BY: Lucy Waverman
A perfect summer barbecue—light, clean and flavourful. The Vietnamese sauce tastes of lime, salty fish sauce, herbs and heat and has a slight sweetness, hitting all the flavours on the spectrum. Using boneless chicken breasts makes it quick, too. Serve at room temperature.
MARINADE
¼ cup (60 mL) chopped fresh mint
2 tbsp (30 mL) vegetable oil
2 tbsp (30 mL) fish sauce
1 tbsp (15 mL) lime juice
1 tbsp (15 mL) sugar
1 tsp (5 mL) grated lime rind
1 tsp (5 mL) chopped garlic
1 tsp (5 mL) sriracha

4 skinless boneless chicken breasts, about 8 oz (250 g) each

DRIZZLING SAUCE
½ cup (125 mL) sugar
½ cup (125 mL) water
2 cloves garlic, peeled and crushed
1 tsp (5 mL) Asian chili sauce, or to taste
¼ cup (60 mL) fish sauce
¼ cup (60 mL) lime juice
2 tbsp (30 mL) finely shredded carrots
2 tbsp (30 mL) finely sliced green onion
2 to 3 thin slices of red chili (optional)

SALAD
1 head Boston lettuce, leaves separated
Handful of mint sprigs
Handful of coriander sprigs
1 small red onion, thinly sliced
Cooked thin rice noodles
Lime sections
1 Combine mint, oil, fish sauce, lime juice, sugar, lime rind, garlic and sriracha. Brush all over chicken breasts.

2 Combine sugar and water in a pot for drizzling sauce. Bring to a boil over high heat, stirring until the sugar is dissolved. Boil for 2 to 3 minutes or until slightly syrupy. Remove from heat and allow to cool completely.

3 Place garlic and Asian chili sauce with ¼ cup (60 mL) sugar syrup in a food processor or blender, and blend until puréed. Add fish sauce and lime juice. Taste for seasoning, adding more syrup as needed. Place carrots and green onion in a bowl and add sauce. Add chili slices if desired. Reserve. Keep remaining sugar syrup for another use.

4 Preheat grill to medium, about 350°F (180°C). Add chicken breasts and grill about 5 to 7 minutes a side or until juices run clear. Remove to carving board, let sit for a couple of minutes then cut into thin strips.

5 Arrange lettuce leaves, mint, coriander, sliced red onion, rice noodles, lime sections and sliced chicken on a platter. Make your own wraps by wrapping noodles, chicken and garnishes in lettuce leaves and drizzling or dipping into sauce.
SHARE