Vidalia Onion Relish
Summer 2007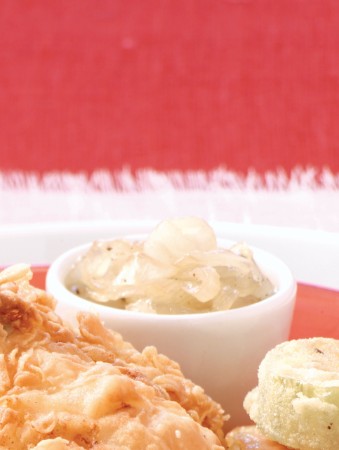 Vidalia Onion Relish
Summer 2007
BY: Lucy Waverman
Sherry was often used in the South for cooking as it was a favourite tipple and considered a very sophisticated drink. Here we have updated it to sherry vinegar.
2 tbsp (25 mL) vegetable oil
2 large Vidalia onions, thinly sliced
Salt and freshly ground pepper
1 tsp (5 mL) sugar
2 tbsp (25 mL) sherry vinegar


1.  Heat oil in skillet over medium heat. Add onions and sauté for 2 minutes. Season with salt and pepper and continue to fry for another 10 minutes, stirring occasionally. They should be a very pale gold. Add sugar and sherry vinegar and simmer about 3 minutes or until flavours are combined. Serve warm or cold.

Fiery Fried Chicken
Southern fried chicken is, of course, a delicacy in the Deep South and my version uses lots of hot sauce with the buttermilk marinade - not very appealing to children, perhaps, but a special treat for adults.  True Southerners once fried their chicken in lard or shortening but today the health emphasis is much stronger and most now use oil. However you can flavour the oil by adding a few strips of bacon to it as it heats up. Remove bacon when oil is the right temperature for frying. This will give the oil some extra  flavour. Adding a little cornstarch makes a crispier batter. You can remove chicken skin if  desired or you can use boneless, skinless breasts or thighs. Cook them for about 4 to 5 minutes a side.

1 chicken, cut into 8 pieces
Salt and freshly ground pepper
1 cup (250 mL) buttermilk
¼ cup (50 mL) hot pepper sauce
1 tbsp (15 mL) chopped thyme
1 cup (250 mL) flour
2 tbsp (25 mL) cornstarch
Vegetable oil for frying
1.  Season chicken with salt and pepper.

2.  Combine buttermilk, hot sauce and thyme. Place chicken in bowl and pour over buttermilk mixture. Marinate for 4 hours in the refrigerator covered.

3.  Combine flour and cornstarch, season with salt and pepper and place on a plate. Remove chicken from buttermilk, shake off excess buttermilk and roll in seasoned flour.

4.  Heat ½- inch (1-cm) oil in a skillet over medium-high heat. When oil is
very hot, add chicken and fry for about 8 minutes per side for white meat and 10 minutes per side for dark. Skin should be crisp and the chicken not greasy.  Place chicken on paper towels to remove any further grease. Serve with Fried Green Tomatoes (recipe follows) and Vidalia Onion Relish.

Fried Green Tomatoes
In the South green tomatoes are a staple in the diet. I used the
least ripe tomatoes I could find at the supermarket but green tomatoes may be available if you ask for them.

12 thin slices pancetta
1/3 cup (75 mL) flour
1/3 cup (75 mL) cornmeal
Salt and freshly ground pepper
¼ tsp (1 mL) dried thyme
3 green tomatoes, sliced about ¼-inch (5- mm) thick
2 eggs, beaten
¼ cup (50 mL) vegetable oil
1.  Preheat oven to 375ºF (190ºC).

2.  Place pancetta slices on a baking sheet lined with parchment paper and bake until crisp and brown, about 6 to 7 minutes. Cool to room temperature.

3.  Reduce oven heat to 200ºF (100ºC).

4.  Combine flour and cornmeal and season with salt and pepper and thyme. Dip sliced tomatoes in beaten eggs, then cornmeal flour  mixture. Shake off excess.

5.  Heat 2 tbsp (25 mL) vegetable oil in a skillet over medium heat. Place tomato slices in hot oil and fry until golden brown on both sides, about 2 minutes per side. Don't crowd slices. Fry in batches and keep warm in 200ºF (100ºC) oven.

6.  Stack 1 slice of green tomato, top with pancetta and another slice of tomato. Serve as a garnish with Fiery Fried Chicken.
SHARE