Veal Chops with Mushroom Powder & Mushroom Sauce
Holiday 2016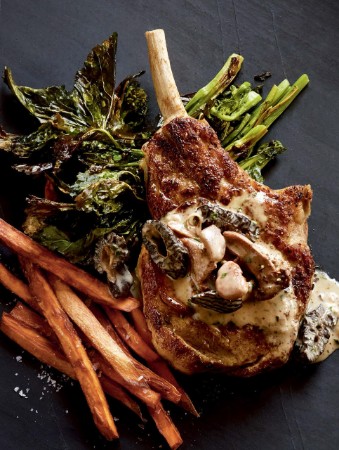 Veal Chops with Mushroom Powder & Mushroom Sauce
Holiday 2016
BY: Lucy Waverman
The mushroom powder has a strong mushroom flavour and gives another layer of flavor to the veal chop. Oven timing is always based on the thickness of the chops. An instant-read meat thermometer is helpful with this. If you can't find the special mushrooms in the recipe, use a mixture of shiitake, oyster and cremini mushrooms. Serve with sweet potato fries and rapini.
MUSHROOM POWDER
½ tsp (2 mL) peppercorns
½ tsp (2 mL) coriander seeds
½ cup (125 mL) dried porcini mushrooms

CHOPS & SAUCE
4 pasture-raised veal chops, each 12 oz (375 g), bones cleaned, about 1½ inches (4 cm) thick
3 tbsp (45 mL) olive oil
Salt to taste
2 tbsp (30 mL) chopped shallots
6 oz (175 g) mix of morels, chanterelles, porcini or other premium mushrooms, coarsely chopped
¼ cup (60 mL) red wine
1 cup (250 mL) veal or chicken stock
¼ cup (60 mL) whipping cream
1 tsp (5 mL) cornstarch mixed with 1 tbsp (15 mL) water, optional
1 tbsp (15 mL) chopped cilantro
1 Preheat oven to 450°F (230°C).

2 Toast peppercorns and coriander seeds in a skillet over medium-low heat until you can just smell them, about 1 minute.

3 Place dried porcini mushrooms, peppercorns and coriander seeds in a blender or spice grinder, and process until a powder.

4 Brush veal chops with 1 tbsp (15 mL) olive oil then sprinkle each chop with 2 tsp (10 mL) mushroom powder. Season with salt.

5 Heat a large skillet over medium-high heat and add 1 tbsp (15 mL) olive oil. Brown chops on both sides until golden, about 2 minutes per side. Place on a baking sheet and bake for 9 to 12 minutes or until still slightly pink, about 130°F (56°C) on a meat thermometer. Remove to a platter.

6 Heat remaining 1 tbsp (15 mL) olive oil in a medium skillet over medium heat while chops are baking. Add shallots and sauté for 1 minute, or until just beginning to soften. Add mushrooms and sauté until limp, about 3 more minutes. Add wine and stock and bring to a boil. Simmer for 8 minutes or until liquid is reduced to about ¼ cup (60 mL). Add cream and remaining mushroom powder to sauce and bring to a boil. If sauce is not thick enough, stir in cornstarch mixture a little at a time to thicken. Stir in cilantro. Remove from heat.

7 Serve veal chops drizzled with mushroom sauce.
SHARE