Vampire's Delight
Autumn 2020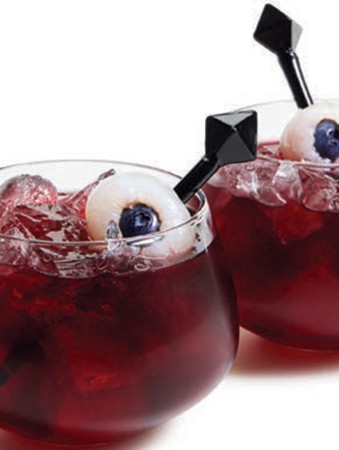 Vampire's Delight
Autumn 2020
BY: Christine Sismondo
This sparkly blood-red punch is packed with a medley of fresh tart berry notes, citrusy gin and hints of bittersweet from the aperitivo—equal parts fun and serious flavour.
16 oz Northern Landings Cranberry Ginberry (LCBO 10614)
8 oz Campari Aperitivo (LCBO 277954)
12 oz Chambord Royale (LCBO 111443)
24 oz fresh pomegranate juice
8 oz Homemade Grenadine (recipe follows)
26 oz Riunite Lambrusco Frizzante (LCBO 13492)
30 lychees (for garnish)
30 blueberries (for garnish)
1. The day before the party, fill a Bundt cake baking mould with water to make an ice ring.

2. The day of the party, add all liquid ingredients except Lambrusco to a large pitcher and stir. Pour into punch bowl. Add frozen ice ring. Top with Lambrusco.

3. Carve small holes into lychees and insert blueberries into each one to make lychee eyeballs. Float on top of punch.

HOMEMADE GRENADINE
Heat 1 cup (250 mL) pomegranate juice, 1 tbsp (15 mL) pomegranate molasses and 1 cup (250 mL) white granulated sugar in saucepan over low heat until sugar and molasses are dissolved. Let cool, add 1 oz vodka, then bottle and refrigerate. Lasts 2 to 3 weeks.

Makes 1 cup (250 mL)
SHARE