Turkey Legs with Cider & Apples
Holiday 2016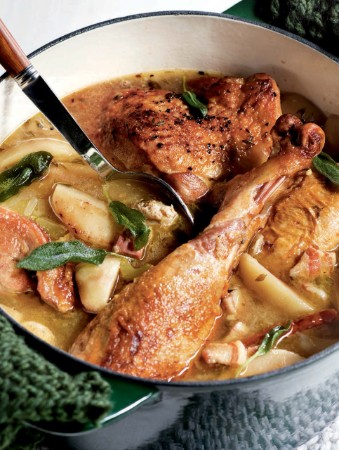 Turkey Legs with Cider & Apples
Holiday 2016
BY: Lucy Waverman
This dish tastes like the holidays. The chili balances the sweetness of the sauce, but it can be omitted. Turkey legs braise very well and become tasty and rich. Always pat turkey dry before searing to ensure it browns well. Turkey legs come in different weights. Smaller ones will cook in 15 to 30 minutes' less time. Serve with roasted parsnips, Brussels sprouts and buttermilk mashed potatoes. Leftover turkey makes a sensational turkey potpie. Just thicken the sauce and add any leftover cooked vegetables, cover with a puff pastry crust and bake at 350°F (180°C) until pastry is crisp and golden.
2 large turkey legs, about 6 lbs (2.7 kg), split into thighs and drumsticks
Salt and freshly ground pepper
3 tbsp (45 mL) olive oil
½ cup (125 mL) chopped pancetta
3 pork or chicken sausages, sliced 1 inch (2.5 cm) thick
3 tart green apples such as Spy or Granny Smith, peeled, cored and cut in wedges, about 5 cups (1.25 L)
2 cups (500 mL) chopped onions
2 cups (500 mL) chopped celery
1 tbsp (15 mL) chopped garlic
2 cups (500 mL) chicken stock
1 cup (250 mL) hard apple cider
1 tbsp (15 mL) cider vinegar
2 tsp (10 mL) chopped fresh thyme
1 dried chili
6 fresh sage leaves

GARNISH
12 fresh sage leaves
1 Preheat oven to 300°F (150°C).

2 Season turkey legs with salt and pepper. Heat 2 tbsp (30 mL) of oil in large ovenproof pot or in a skillet. Working in batches, add turkey pieces and brown on each side, about 2 to 3 minutes per side. Remove to a plate.

3 Add pancetta and sauté until beginning to crisp, about 1 to 2 minutes. Stir in sausages and apples. Saute for 2 minutes or until sausage browns slightly. Remove sausages and apples to a bowl. Add onions and celery and sauté for 5 minutes or until vegetables are softened. Add garlic and cook for 1 minute longer.

4 Stir in stock, hard cider, cider vinegar, thyme, dried chili and 6 sage leaves. Bring to a boil. Return turkey legs to liquid. Cover and bake for 1 hour. Stir in apple wedges and sausage. Bake, covered, for 30 more minutes.

5 Increase heat to 350°F (180°C). Remove cover and bake another 30 minutes or until flavours are combined and legs are very tender.

6 Heat remaining 1 tbsp (15 mL) of oil in a small skillet over medium-high heat. Add sage leaves and fry until crisp and slightly curled, about 1 minute. Remove to a paper-towel-lined plate.

7 Carve meat from thighs and drumsticks and serve a portion of each per serving with sauce. Garnish with fried sage leaves.
SHARE