Turkey, Cranberry & Brie Burgers
Summer 2021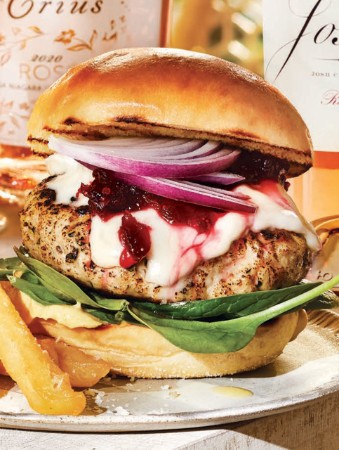 Turkey, Cranberry & Brie Burgers
Summer 2021
BY: Miranda Keyes
These turkey burgers, with fresh herbs, crunchy celery and cranberry jam, may remind you of Thanksgiving dinner, minus all the dishes. Making cranberry jam outside fresh cranberry season is easy, using fruit readily available in the freezer section of your grocery store. You can use the leftover cranberries in muffins, loaves or fruit smoothies.
CRANBERRY JAM
1 1/2 cups (375 mL) frozen cranberries
1/2 cup (125 mL) granulated sugar
3 tbsp (45 mL) orange juice
TURKEY BURGERS
2 tsp (10 mL) olive oil
2 celery stalks, ends trimmed and finely diced, about 1/2 cup (125 mL)
1/2 red onion, finely diced, about 1/2 cup (125 mL)
1/2 tsp (2 mL) salt, divided
1 clove garlic, finely minced
1 lb (455 g) ground turkey
1 cup (250 mL) fresh bread crumbs
2 tbsp (30 mL) finely chopped flat-leaf parsley
1 large egg, beaten
1 tbsp (15 mL) Dijon mustard
1/4 tsp (1 mL) freshly ground black pepper
TO ASSEMBLE
Brie cheese, thinly sliced
4 brioche burger buns
Dijon mustard
Baby spinach leaves
Thinly sliced red onion
1. For the cranberry jam, in a small saucepan, combine frozen cranberries, sugar and orange juice, and set over high heat. Bring to a boil, then reduce heat to medium and simmer, stirring occasionally, until slightly thickened, about 20 minutes. Scrape cranberry jam into a bowl and refrigerate, uncovered, until cooled completely for at least 1 hour. The mixture will thicken as it cools.
2. For the burgers, heat oil in a large nonstick frying pan set over medium-high heat. Add celery, red onion and 1/4 tsp (1 mL) salt. Cook, stirring occasionally until softened, about 10 minutes. Stir in garlic and cook for 1 minute. Scrape mixture into a bowl and set aside to cool completely for about 20 minutes.
3. Scrape cooled mixture into a large mixing bowl along with turkey, bread crumbs, parsley, egg, Dijon mustard, remaining 1/4 tsp (1 mL) salt and pepper. Gently mix until combined and shape into 4 equal-sized burgers, about 1/2 inch (1 cm) thick (see TIP).
4. Cook burgers over a high grill for 5 to 6 minutes per side, until no longer pink in the centre or until a meat thermometer inserted horizontally into the centre of the burger registers 165°F (74°C). Arrange brie slices over burgers for the last 30 seconds of cooking to quickly melt.
5. Toast buns on the grill, if desired. Smear bottoms of buns with Dijon mustard, then top each one with spinach, 1 burger, cranberry jam and red onion. Serve immediately.
TIP Burgers can be made up to 1 day in advance, covered with plastic wrap and refrigerated.
SHARE