Tuna Tartare
Early Summer 2019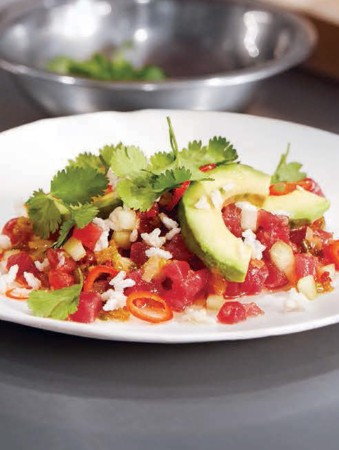 Tuna Tartare
Early Summer 2019
BY: Matthew Betsch
Make the puffed rice and the dressing the day before. Then it is easy to assemble the tartare an hour before dinner. 
1½ lbs (680 g) sushi-grade tuna
½ red serrano chilli
1 English cucumber
1 ripe avocado
½ cup (125 mL) loosely packed cilantro leaves
1 tbsp (15 mL) soy sauce
Salt to taste
Juice of 1 large lime
¾ cup (175 mL) Scallion Ginger Dressing
¾ cup (175 mL) Puffed Rice (recipe this page)
1 Chop tuna into small ¼-inch (5-mm) dice. Cut away any sinew, scraping it off with a spoon. Store in the refrigerator until you are ready to compose the dish.

2 Slice chilli thinly. Rinse in water to help remove some of the seeds. Dry on a tray lined with a paper towel. Peel cucumber, quarter and remove seeds using a small knife. Cut into small squares, ¼ inch (5 mm) each. You need about 1½ cups (375 mL).

3 Cut the avocado in half and twist open. Remove the pit and scoop avocado meat from the peel with a large spoon. Slice the avocado thinly. Pick clusters of leaves from the bunch of cilantro, a little bit of stem is ok.

4 Mix tuna, chopped cucumber, sliced chilli, soy sauce and salt to taste. Do not add too much salt as scallion dressing is already well seasoned. Add lime juice to taste.

5 For each serving, loosely pile ⅓ cup (80 mL) tuna in the center of a small shallow bowl or rimmed plate. Drizzle 2 tbsp (30 mL) Scallion Ginger Dressing over the tuna and drizzle a little on the plate. Add about 4 avocado slices to the plate. Sprinkle over cilantro leaves. Sprinkle with 2 tbsp (30 mL) Puffed Rice to finish. Serve immediately. 
Scallion Ginger Dressing
You can use the food processor for this recipe but first, turn it on and drop the pieces of ginger down the feeder tube to make sure it achieves a pasty texture. The hand method gives you a smoother, tastier result. This dressing is a great marinade for chicken or salmon that is going to be roasted.

¼ cup (60 mL) peeled ginger
Salt
½ cup (125 mL) finely chopped green onions
¾ cup (175 mL) vegetable oil
1 tbsp (15 mL) soy sauce
Pinch chili flakes or to taste
Grated zest of 1 lime
1 Grate ginger on the small side of a box grater or microplane. Spread ginger on a board, sprinkle with salt and with your knife almost flat to the cutting board, work the mixture back and forward until it becomes pasty. 

2 Combine green onions with ginger in a heatproof bowl. 

3 Warm oil on medium-high heat in a small skillet until it has just started to smoke. 

4 Pour oil slowly over scallion-ginger mix, being careful as it may splatter, and stir to incorporate. Cool until room temperature. 

5 Add soy sauce, chilli, salt to taste and lime zest. Adjust seasoning, adding salt as needed. 

6 Store in the fridge until needed. It keeps for 2 weeks.
Makes about ¾ cup (175 mL) dressing
Puffed Rice
This is not the way Chef Betsch dries his rice, but we find it to be a very easy way for non-p rofessional cooks to get the best result. It seems counterintuitive to dry the rice then cover with a damp paper towel, but the method works brilliantly. Puffed rice is a crunchy garnish that can be used for other dishes, even steamed vegetables, to add texture. It keeps in a container for two weeks at room temperature. 

4 cups (1 L) water
½ cup (125 mL) Thai jasmine rice
Pinch salt
Vegetable oil for deep-frying
1 Bring water to a boil. Add rice and salt. Simmer for 12 to 15 minutes until fully cooked but not mushy. Strain through a colander, and rinse quickly with cold water. 

2 Preheat the oven to 250°F (120°C). 

3 Spread the rice out in a thin layer on a parchment- lined tray and bake for 2 hours, stirring once, until rice is completely dry. Place rice in a storage container and cover with a damp paper towel. Cover with a lid and leave to sit at room temperature for 2 hours. 

4 Heat 1 inch (2.5 cm) vegetable oil to 400°F (200°C) in a pot. Line a baking sheet with 2.layers of paper towel. 

5 Fry rice in the oil for 3 to 5 seconds. Fry in batches if necessary. Rice should puff up almost instantly. Use a slotted spoon or a mesh skimmer to scoop the rice out of the oil. Lay out on tray and season lightly with salt. 
Makes 1¼ cups (310 mL) puffed rice
SHARE