Treasures of Northumberland County
OCTOBER 2020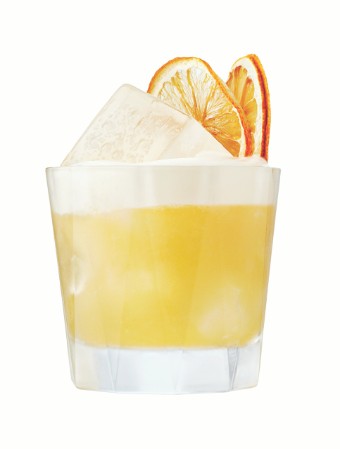 Treasures of Northumberland County
OCTOBER 2020
BY: Maleeha Ghani
Ontario-grown saffron gives this special-occasion twist on a Whisky Sour its rich, fall-ready hue.
1½ oz blended Scotch whisky, such as Grant's Family Reserve Scotch Whisky
½ oz orange liqueur, such as Cointreau
1 oz Ginger & Saffron Rich Syrup (see recipe below)
1 oz freshly squeezed lemon juice
1 fresh egg white
3 dashes orange bitters, such as Kinsip Orange Handcrafted Bitters
Lemon wheel, preferably dehydrated, for garnish
Pour whisky, liqueur, syrup, lemon juice, egg white, bitters into a cocktail shaker filled with ice. Shake until chilled. Strain out and discard ice. Pour back into cocktail shaker. Shake vigorously for 20 seconds. Pour over a large ice cube in a rocks glass. Garnish with lemon wheel.

Ginger & Saffron Rich Syrup
1 cup (250 mL) granulated sugar
½ cup (125 mL) water
2 tbsp (30 mL) finely grated ginger
10 saffron threads, such as local True Saffron
Add sugar, water, ginger and saffron to a small pot. Bring to a boil over medium-high heat. Remove from heat. Let cool. Fine-strain. Syrup will keep well, stored in a resealable container in the fridge, for up to 2 weeks.
Makes about 1 cup (250 mL)
SHARE