Traditional Herb Stuffing
Holiday 2010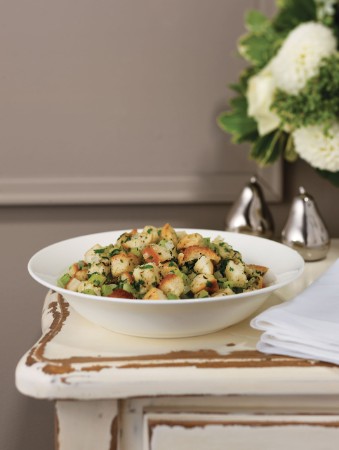 Traditional Herb Stuffing
Holiday 2010
BY: Heather Trim
For those who don't like to mess with tradition, this savoury stuffing is perfect.
9 cups (2.25 L) dried sourdough bread cubes
1/2 cup (125 mL) butter
6 stalks celery, diced
2 onions, chopped
3 garlic cloves, minced
1 cup (250 mL) chopped Italian parsley
1 tbsp (15 mL) each dried sage and thyme leaves
2 tsp (10 mL) dried Italian seasoning
1 to 2 tsp (5 to 10 mL) salt
1/2 tsp (2 mL) black pepper
1 to 11/4 cups (250 to 300 mL) chicken broth
1 Place bread in a large bowl. Melt butter in a large wide pan over medium heat. Add celery and onions. Stir occasionally until very tender, about 8 minutes.

2 Add to bread, along with garlic, parsley, dried herbs, 1 tsp (5 mL) salt, pepper and broth. Stir. Stuffing should be moist but not wet. Drizzle in a bit more broth if needed.Taste and add more salt if needed. It is better to err on the side of over-seasoning.

3 Just before roasting turkey, stuff stuffing into cavity and back of turkey without packing too tightly. Or bake at 325°F (160°C) in a covered baking dish until hot, 40 to 45 minutes.

TIP - Drying bread for stuffing
Leave bread cubes on a baking sheet, uncovered, to dry overnight. Or toast on a baking sheet in a 325°F (160°C) oven, stirring occasionally, for 10minutes. Cool completely. You'll need about 1/2 to 3/4 cup (125 to 175 mL) stuffing per pound of turkey.


Makes about 9 cups (2.25 L)
SHARE