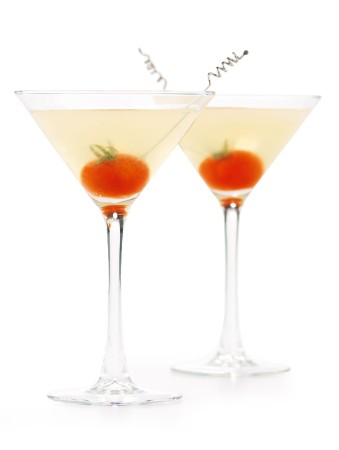 BY: James Chatto
This is a perfect sun-downer for a warm fall evening.

Shake one part ice-cold Plymouth Gin with ice and four parts Tomato Water (recipe follows).
Tomato Water
It's essential to use really ripe, fragrant tomatoes for this recipe. You should also taste the tomatoes first to gauge their intensity and flavour, then have fun with flavourings, replacing the basil with chervil, thyme, marjoram or lemon verbena, and even adding paprika or diced hot pepper, but always bearing in mind you want to keep the tomato flavour predominant. The yield will vary according to the juiciness of the tomatoes.

2 lb (1 kg) ripe tomatoes (about 6 medium)
¼ cup (50 mL) lightly packed small basil leaves
1 tsp (5 mL) salt
1. Rinse and dry tomatoes; chop coarsely. Rinse basil leaves; pat dry on paper towels. In a food processor, pulse tomatoes, basil and salt until a fairly smooth purée forms.

2. Line a large bowl with an 18-inch (45-cm) square of triple-layer cheesecloth. Tip tomato purée into cheesecloth. Gather corners together; tie with string being careful not to squeeze tomato purée. Suspend cheesecloth bag over bowl (tying it to the handle of a kitchen cupboard works well). Let drain in a cool spot for at least 8 hours.

3. Carefully lift bag away from bowl without squeezing it. Taste tomato water; add more salt if necessary. Pour tomato water into an airtight container; refrigerate for up to 3 days.
SHARE