The Essential Sparerib Recipe
Summer 2008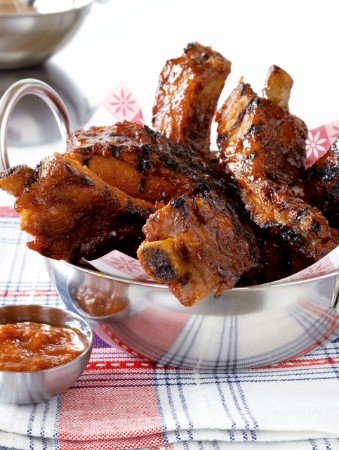 The Essential Sparerib Recipe
Summer 2008
BY: Lucy Waverman
I prefer back ribs for this recipe as they have more meat, but some people like side ribs better because of the fat content. The sauce is tangy, lemony and slightly sweet. Pre-cooking the ribs tenderizes them.
3 lbs (1.5 kg) pork back ribs
2 tsp (10 mL) sugar
2 tsp (10 mL) ground cumin
2 tsp (10 mL) chili powder
2 tsp (10 mL) paprika
1 tsp (5 mL) salt
1 cup (250 mL) Spicy Barbecue Sauce (recipe follows)
1. Preheat oven to 350°F (180°C).

2. Cut ribs into serving-size portions (about 3 to 4 ribs per portion).

3. Combine sugar, cumin, chili powder, paprika and salt and rub on both sides of ribs. Place in a roasting pan, cover tightly with foil and bake for 1 hour 15 minutes for back ribs, or 1 hour 30 minutes for side ribs, or until fork tender. Remove roasting pan from oven. Pour off juices. Skim fat and add juices to barbecue sauce, if desired.

4. Preheat grill to medium.

5. Place ribs on grill, brush with barbecue sauce and grill for 20 to 25 minutes, turning and basting every 5 minutes, or until glazed.

6. Serve with extra barbecue sauce on the side.
SHARE