The Dandy
Early Summer 2012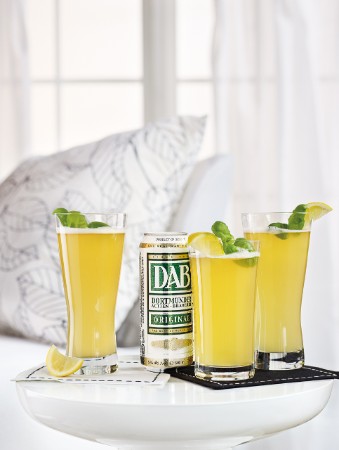 The Dandy
Early Summer 2012
BY: Mirella Amato
A sophisticated twist on the classic British shandy, this beer cocktail offsets the flavours in a crisp summer beer with a host of complex herb-garden notes. Use a golden-coloured lager like Dab Original (LCBO 254946, 500 mL), which has rich malt tones that will complement the herbal notes in this cocktail.

Combine 1 oz Chase Distillery Elderflower Liqueur (LCBO 225755, 500 mL), 6 oz Herbed Lemonade (recipe below) and 12 oz golden-coloured lager in a pint glass. Stir gently.
Herbed Lemonade

Mint and basil flavours add elegant undertones to this lemonade, which can be enjoyed on its own and used as a substitute for regular lemonade to add complexity to a range of lemonade- based cocktails.

½ cup sugar
½ cup water
6 large fresh basil leaves
6 large fresh mint leaves
1 cup lemon juice
4½ cups soda water
1 In a saucepan, combine sugar, water and herbs. Heat until the sugar has completely dissolved. Remove from the stove and chill. Strain the syrup and blend with lemon juice and soda water.
Makes enough for 8 drinks


SHARE