The Bollywood Martini
Holiday 2012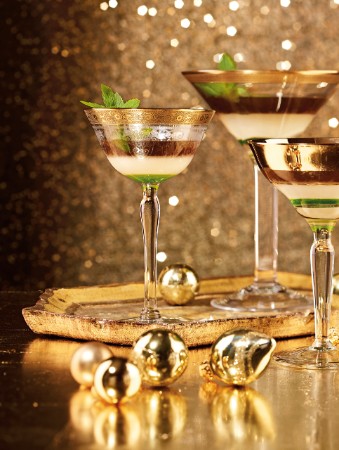 The Bollywood Martini
Holiday 2012
BY: James Chatto
Children (and adults) in India love their thandi—a drink of canned evaporated milk flavoured with some kind of syrup. This surprisingly refreshing cocktail, the creation of Amaya Bread Bar's manager, Sachin Bali, uses poppy-seed-based khus (pronounced "cuss") syrup as its essential component. Its unique flavour reminds me of a minty version of the Greek liqueur, Mastiha. If you can't find khus syrup, substitute with Mastiha liqueur or, in a pinch, crème de menthe.
1½ oz (45 mL) vodka
½ oz (15 mL) Kahlúa
1 tbsp (15 mL) canned evaporated milk (or single cream)
2 drops khus syrup
Cocoa powder
Mint leaf
1 In a cocktail shaker, shake vodka and Kahlúa with ice. Strain into a Martini glass. Carefully add milk and syrup, so they sink to the bottom of the glass. Garnish with a few tiny grains of cocoa powder and a mint leaf.
SHARE