Tequila Sangria
Early Summer 2020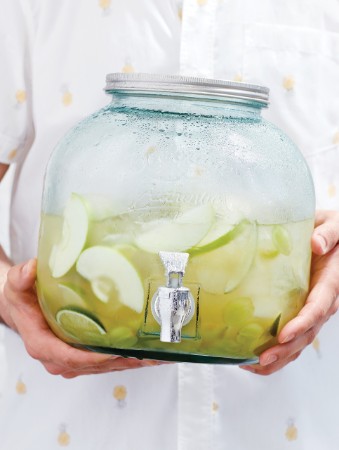 Tequila Sangria
Early Summer 2020
BY: Eric Vellend
Tequila may sound like an offbeat addition to sangria, but its vegetal flavours pair well with a light dry white wine such as Sauvignon Blanc. With a splash of lime, tart apple and sweet grapes, you've got a sensational early summer punch. Don't forget to serve it with tongs to get at the tasty macerated fruit.


1 bottle (750 mL) dry, crisp white wine such as Sauvignon Blanc or Pinot Grigio
½ cup (125 mL) 100% agave tequila blanco
½ cup (125 mL) agave syrup
¼ cup (60 mL) strained fresh lime juice
2 limes, cut into thin wedges
1 Granny Smith apple, cored, thinly sliced
24 green grapes, halved
1½ cups (375 mL) club soda, chilled
6 cups (1.5 L) ice cubes, about 1½  lbs (680 g), plus more for serving
1 In an 8-cup (2-L) glass jar or pitcher, combine wine, tequila, agave syrup and lime juice. Stir to dissolve agave. Stir in lime wedges, apple slices and grape halves. Cover and refrigerate at least 1 hour and up to 4 hours.

2 Transfer sangria mixture to a 16-cup (4-L) drink dispenser or punch bowl. Slowly pour in soda and add 6 cups ice. Serve with chilled glasses, ice cubes and tongs to remove fruit from sangria to garnish.


SHARE