Sun-Dried Tomato and Pistachio-Topped Brie
Holiday 2006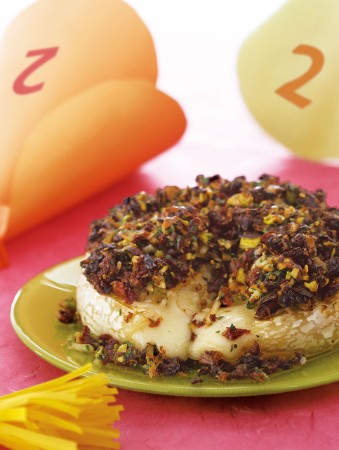 Sun-Dried Tomato and Pistachio-Topped Brie
Holiday 2006
BY: Emily Richards
Brie is a classic cheese and a favourite on its own. It's even better warmed through, enhanced with Mediterranean flavours and matched with crackers or toasted baguette slices. This sun-dried tomato and pistachio mix rises high above the brie to make sure every bite includes the rich tomato flavour. You can prepare the brie and topping ahead of time and refrigerate for up to 8 hours before baking.
½ cup (125 mL) finely chopped sun-dried tomatoes in oil, drained
1/3 cup (75 mL) chopped shelled pistachios
¼ cup (50 mL) chopped fresh Italian parsley
3 tbsp (45 mL) shredded Asiago cheese
2 tbsp (25 mL) sun-dried tomato oil
1 garlic clove, minced
¼ tsp (1 mL) freshly ground black pepper
1 double crème brie round, about 1 lb (500 g)
Water crackers
1. Combine sun-dried tomatoes, pistachios, parsley, Asiago cheese, sun-dried tomato oil, garlic and pepper in bowl.

2. Preheat oven to 350ºF (180ºC).

3. Place brie on a parchment-paper-lined baking sheet and top with sun-dried tomato mixture. Bake in oven for about 15 minutes or until brie feels soft around edge. Using a large spatula transfer brie to serving platter and surround with crackers.
SHARE