Strawberry Fig Jam
Autumn 2004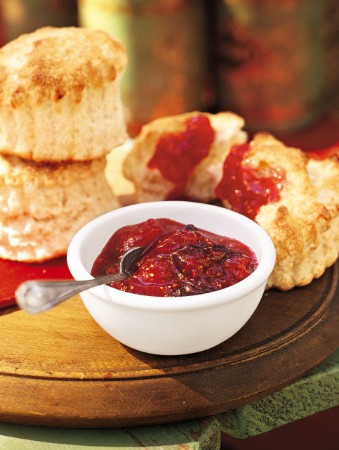 Strawberry Fig Jam
Autumn 2004
BY: Dale Heinrich - Prize Winner - Royal Winter Fair
Dale Heinrich is the consummate jam, jelly and preserves maker. Every year his recipes take first prize at the Royal Winter Fair. This is one of his favourite jams and one of ours, too. Try it with scones! It was one of the few jams we received that did not use pectin - making it less sweet and slightly runny. The figs provide the pectin. We could only find green figs to make this and they worked very well.
1 lb (500 g) fresh purple Mission figs, stems removed
2 cups (500 mL) fresh strawberries, quartered
1/3 cup (75 mL) freshly squeezed lemon juice
2 cups (500 mL) white sugar
1. Cut figs into small pieces. Place figs, strawberries, lemon juice and sugar in a non-reactive saucepot.

2. Cover and let stand for 45 minutes, stirring occasionally.

3. Bring mixture to a boil over high heat, then reduce heat to medium and boil rapidly, uncovered, stirring occasionally, for about 10 minutes. Continue to cook about 2 minutes more, stirring constantly, until mixture jells. Remove from heat.

4. Ladle into sterilized jars, leaving ¼-inch (5-mm) headspace at the rim. Cover with 2-piece lids.

5. Once cool, check for proper seal (the lids should be slightly concave) and store in a cool, dry place.
Makes three 1-cup (250-mL) jars
SHARE