Strata with Smoked Ham, Gruyère and Spinach
Holiday 2018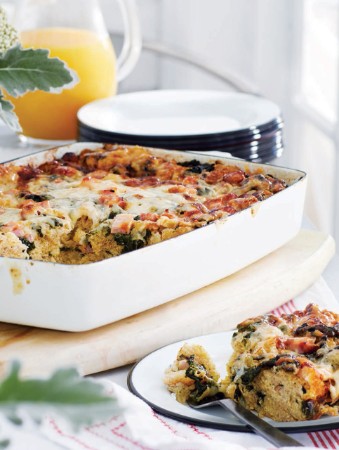 Strata with Smoked Ham, Gruyère and Spinach
Holiday 2018
BY: Eric Vellend
The Italian-American breakfast bake gets a Gallic twist with spinach, smoked ham and sharp Gruyère cheese. It's the ultimate make-ahead dish; do all the work the day before and just pop it into the oven an hour before brunch. Feel free to play around with different meats, cheeses and greens.
2 tbsp (30 mL) unsalted butter, plus more for greasing pan
1 large onion, finely chopped
1 pkg (300 g) frozen whole-leaf spinach, thawed, drained, squeezed dry
Salt and freshly ground pepper to taste
9 cups (2.25 L) cubed day-old sourdough bread, about 1 inch (2.5 cm) square, crusts removed
1½ cups (375 mL) diced ham, about ½ lb (225 g).
2½ cups (625 mL) grated Gruyère, about ½ lb (225 g).
8 large eggs
2 cups (500 mL) whole milk
½ cup (125 mL) heavy cream
¼ tsp (1 mL) freshly grated nutmeg
¼ tsp (1 mL) salt
¼ tsp (1 mL) freshly ground pepper
1. Butter a 12- to 16-cup (3- to 4-L) baking dish.

2. Heat butter in a large frying pan over medium heat. Add onions. Cook, stirring occasionally, until tender, 7 to 8 minutes. Add spinach. Cook, stirring, 1 minute. Season with salt and pepper. Transfer to plate. Cool completely.

3. Spread one-half of bread cubes in prepared pan. Top with half of the spinach mixture in an even layer. Sprinkle half of ham and half of Gruyère. Repeat layering process.

4. In a large mixing bowl, whisk eggs, milk, cream, nutmeg, salt and pepper. Pour evenly over strata. Place a piece of plastic wrap overtop and press down a few times to help top layer of bread absorb egg mixture. Wrap pan tightly in plastic wrap. Refrigerate at least 6 hours, preferably overnight.

5. Remove strata from fridge 30 minutes before baking. Preheat oven to 350°F (180°F).

6. Bake on middle rack until puffed, golden and a toothpick inserted in centre comes out clean, 50 to 60 minutes.
SHARE