Sticky Date Pudding
Holiday 2009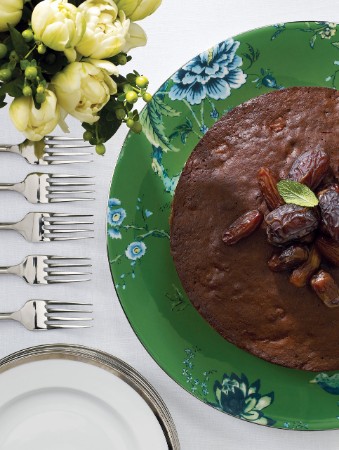 Sticky Date Pudding
Holiday 2009
BY: Tonia Wilson-Vuksanovic
This classic recipe gets an intriguing twist with the addition of beer to the caramel sauce. The combination of flavours is so dangerously delicious that it's difficult to stop at one piece.
1 cup (250 mL) orange juice
1 cup (250 mL) water
1½ cups (375 mL) dates
1½ tsp (7 mL) baking soda
2 cups (500 mL) all-purpose flour
½ tsp (2 mL) baking powder
½ tsp (2 mL) salt
½ tsp (2 mL) ground ginger
½ tsp (2 mL) ground cloves
¼ tsp (1 mL) ground nutmeg
¾ cup (175 mL) unsalted butter, at room temperature
1 cup (250 mL) sugar
3 large eggs, at room temperature
1 tsp (5 mL) vanilla
½ cup (125 mL) walnuts, coarsely chopped (optional)
Vanilla ice cream as garnish (optional)
1. Preheat oven to 375°F (190°C).
2.  In a small saucepan, bring orange juice and water to a boil over high heat. Add dates and simmer over low heat for 5 minutes. Remove from heat and stir in baking soda, it will bubble.

3.  Butter or spray a 9-inch (23-cm) round cake pan.


4. Sift together flour, baking powder, salt, ginger, cloves and nutmeg.

5.  Beat butter and sugar together until light and fluffy. Add eggs 1 at a time, beating well after each addition. Beat in vanilla.

6.  Add flour mixture to butter mixture in 2 batches. Beat in date mixture and walnuts, just until combined. Pour batter into cake pan.
7.  Place cake pan in a roasting pan, add enough hot water to roasting pan for the water to reach halfway up the side of the cake pan.
8.  Bake for 55 to 60 minutes or until an inserted cake tester comes out clean.
9.  Serve warm topped with Fin du Monde Caramel Sauce (Recipe below) and vanilla ice cream.

Fin du Monde Caramel Sauce
Fin du Monde is a Belgian-style ale produced in Quebec. It has loads of malty caramel flavour and a spiciness that marries perfectly with the pudding's ginger and cloves. Any beer crafted in this style will work wonderfully for the sauce.

1 cup (250 mL) Fin du Monde beer, or other Belgian-style ale
½ cup (125 mL) dark brown sugar
¼ tsp (1 mL) salt
1 cup (250 mL) 35% cream
1.  In a medium saucepan, reduce the beer by half over medium-high heat. Measure the reduced beer in a glass or metal measuring cup to ensure that it reduced to ½ cup (125 mL). Return to pan.

2.  Add brown sugar, salt and cream. Simmer until reduced to a thickened sauce. The final quantity should be 1 cup (250 mL) caramel sauce. Let cool slightly and serve warm with Sticky Date Pudding.
SHARE