Steak and Quinoa Hand Rolls with Teriyaki Dip
Early Summer 2019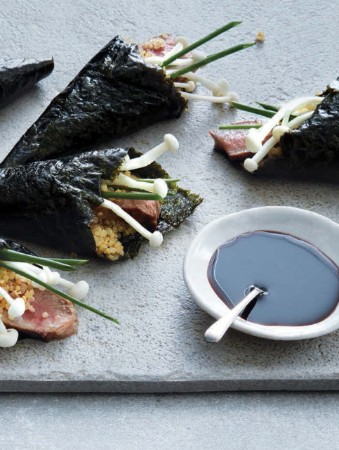 Steak and Quinoa Hand Rolls with Teriyaki Dip
Early Summer 2019
BY: Eric Vellend
With nutty quinoa, juicy beef and a salty-sweet teriyaki dip, this hearty hors d'oeuvre turns the traditional sushi hand roll on its head. If you are struggling with forming the rolls, go onto YouTube for a more visual tutorial. Make sure to serve the dip with a small spoon, so you can drizzle sauce into every bite.
TERIYAKI DIP
½ cup (125 mL) Japanese soy sauce
½ cup (125 mL) mirin
¼ cup (60 mL) sake
3 tbsp (45 mL) honey

HAND ROLLS
1 cup (250 mL) quinoa
2 cups (500 mL) water
1½ tbsp (23 mL) rice vinegar
1½ tbsp (23 mL) mirin
¾ tsp (4 mL) sugar
¼ tsp (1 mL) fine sea salt
12 oz (340 g) striploin steak, about ¾ inch (2 cm) thick
Salt to taste
1 tbsp (15 mL) vegetable oil
6 sheets nori
Enoki mushrooms cut into 3 inch (8cm) lengths
Chives cut into 3 inch (8cm) lengths
1 For the teriyaki dip, place ingredients in a small saucepan over high heat. When it comes to a boil, reduce to a simmer. Cook until reduced to ½ cup (125 mL), 15 to 17 minutes. Remove from heat and cool completely. (Dip will keep, covered and refrigerated, for 1 month.)

2 For the hand rolls, place quinoa and water in a medium saucepan over high heat. When it comes to a boil, cover and reduce heat to low. Cook until quinoa is tender and water is absorbed 15 to 17 minutes. Remove from heat and transfer to a large mixing bowl.

3 In a small bowl, whisk vinegar, mirin, sugar and salt until sugar and salt are dissolved. Stir into the quinoa and spread out quinoa in a bowl to cool completely.

4 Pat steak dry with a paper towel and season with salt. In a medium non-stick frying pan or cast-iron skillet, heat oil over medium-high heat. When the pan is hot, cook steak until medium-rare, about 3 minutes per side. Transfer to a cooling rack and rest for 15 minutes. Slice steak crosswise on a slight angle about  ⅓ inch (8œmm) thick. (You need 12 slices roughly 3 inches/8 cm long.)

5 To form hand rolls, cut nori in half crosswise. Working one at a time, place a nori sheet on the work surface with the long side facing you and the smooth side down. Spread 3 tbsp (45 mL) of quinoa in a circle on the left half. Place a strip of steak on a diagonal in the middle of quinoa pointing to the top left corner. Top with 5 enoki and 3 chive batons. Take the bottom left corner of the nori and wrap it around the quinoa and fillings to form a cone. Continue wrapping cone around rest of nori. Wet the bottom right corner to seal. Place on a serving platter. Repeat with remaining nori, quinoa and fillings. Serve immediately with teriyaki dip and a spoon to drizzle dip into rolls.
SHARE