Star Anise, Pear & Chicken Liver Pâté
Holiday 2019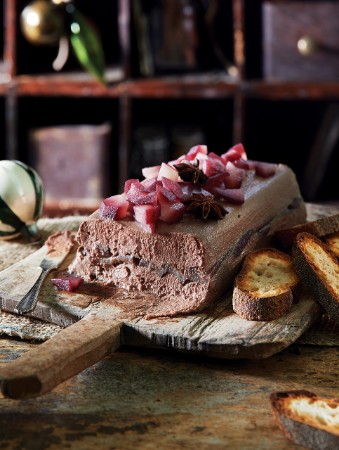 Star Anise, Pear & Chicken Liver Pâté
Holiday 2019
BY: Jennifer MacKenzie
A classic element of mulled wine, star anise lends a hint of licorice flavour and a festive touch to the poached pears in this layered pâté. There are a few steps to making this, but it's actually quite easy and you're sure to impress your guests with this twist on pâté. Have it ready in the fridge to present when guests arrive to kick off any holiday party. Choose a Bartlett or Bosc pear for the best flavour and texture, and make sure it's just ripe and not too soft for poaching.
POACHED PEAR
2 tbsp (30 mL) granulated sugar
4 whole star anise
½ tsp (2 mL) whole black peppercorns
¼ tsp (1 mL) salt
1 ½ cups (375 mL) water
½ cup (125 mL) dry red wine (light and fruity)
1 firm-ripe pear
PÂTÉ
1 lb (455 g) chicken livers
¼ cup (60 mL) butter
1 large shallot, finely chopped
2 cloves garlic, finely chopped
Salt and freshly ground pepper
2 tbsp (30 mL) dry red wine (light and fruity)
2 oz (55 g) cream cheese
1 baguette, sliced, (toasted, if desired)
1 Combine sugar, star anise, peppercorns, salt, water and wine in a small saucepan. Bring to a boil over medium-high heat. Reduce heat and simmer for 10 minutes to infuse the spices.
2 Meanwhile, peel pear and cut in half lengthwise. Scoop out core and trim out stem. Add to poaching liquid and adjust heat to keep at a gentle simmer. Poach pear, gently turning occasionally for 10 to 15 minutes or until just tender. Remove from heat, flip pear halves so the rounded side is down, and let cool to room temperature in the liquid.
3 Transfer pears to a bowl with a slotted spoon and set aside. Return liquid to high heat and bring to a boil. Boil for about 15 minutes or until reduced to about ½ cup (125 mL) and slightly syrupy. Remove from heat and let cool. Strain out whole spices, reserving 3 star anise.
4 For the pâté, trim chicken livers and cut in half or quarters if large. Melt butter in a large skillet over medium heat. Add shallot, garlic and ¼ tsp (1 mL) each of salt and pepper. Cook, stirring, for about 3 minutes or until softened. Add chicken livers and cook, stirring often, for about 8 minutes or until firm and just slightly pink inside. Add wine and stir up any brown bits from pan. Remove from heat and let cool slightly.
5 Place livers in food processor. Add cream cheese and 2 tbsp (30 mL) of the reserved pear poaching syrup. Purée until smooth. Season to taste with salt and pepper.
6 Line a small loaf pan, about 7 x 3 ½ inches (18 x 9 cm), or a 5-inch (13-cm) square dish, with plastic wrap, leaving a 2-inch (5-cm) overhang.
7 Transfer 1 pear half to an airtight container and pour in remaining syrup and reserved star anise. Cover and refrigerate until serving. Cut remaining pear half lengthwise into thin slices.
8 Spread half (a scant 1 cup/250 mL) of the pâté into prepared pan, smoothing top. Arrange pear slices on top, overlapping as necessary. Spoon remaining pâté on top of pears and spread to smooth. Wrap in plastic and refrigerate for at least 3 hours, until chilled and set, or for up to 2 days.
9 To serve, unmold pâté onto a board or plate and peel off plastic wrap. Remove reserved pear from syrup, dice and arrange on top of pâté. Brush lightly with reserved syrup just to moisten, and garnish with reserved star anise. Serve with baguette slices.
SHARE